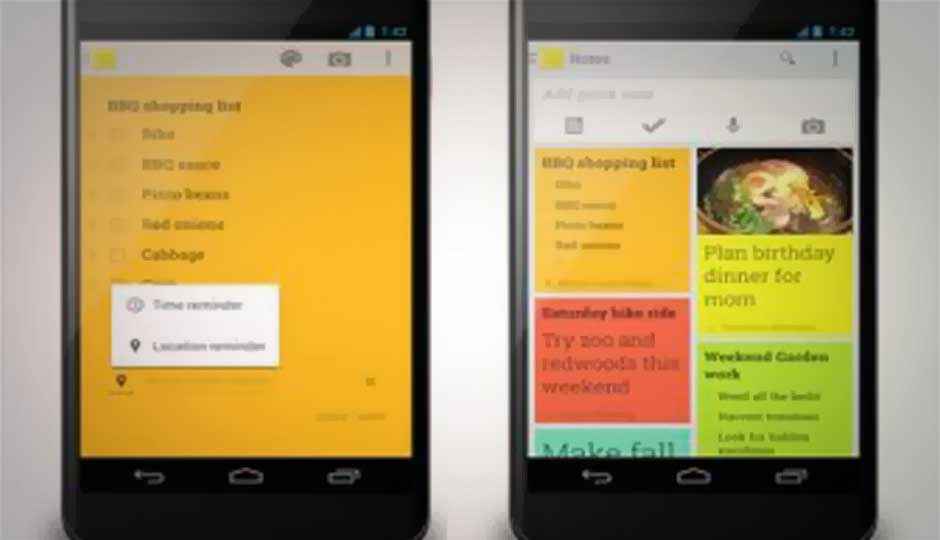 Google has rolled out a major update for its Google Keep. The new update brings Time and Location-Based Reminders powered by Google Now, adds Slide out Navigation as well as More Photo Options.
Google's note taking app 'Google Keep' has added the reminder feature from Google Now. Users will be able to set general or specific time reminders for activities with this new feature.
To access the service users have to select the "Remind me" button from the bottom of any note and add the reminder type. The reminder can be time-based, or have a specific date and time, or even general time of day. Google Keep also suggests reminders about places near you based on your interest or past searches. For e.g., Users will get alerts to pick-up milk or grocery's the next time they are near a grocery store. The reminders can also be snoozed or adjusted in the notification bar according to the users convenience.
The new update also brings out a slide out navigation bar that lets you switch between Google accounts as well as filter your Keep content by notes, reminders, etc. Users can see their notes in the new navigation drawer and view all upcoming reminders in one place. Google has also updated Keep's camera functionality by adding options to create notes based on images from your gallery or clicking new ones.
Google is rolling out the update slowly on Google Play, and users can download the same through Google drive and in the Chrome App.
Source: Google Drive Blog