Google India today celebrates Children's Day, also the birthday of the first Prime Minister of India Jawahar Lal Nehru, by replacing its logo on its homepage with a doodle designed by seven-year-old Varsha Gupta of Greater Noida. The doodle was chosen as the winner for this year's Doodle 4 Google competition. Google had announced it would put winning entry on its homepage on Children's Day - 14th November 2011.
Varsha's imaginative doodle features different Indian musical instruments, making the six letters of Google. The two Os of the Google are replaced by two 'tablas'. The doodle also features a ghungroo, veena and shehnai.
Explaining her doodle, Varsha says, "India is a land of different cultures. In India, music plays a very important role. India has given many musical instruments to the world. Goddess Saraswati plays Veena, God Shiv plays Damaru. According to our mythological stories musical instruments used to be played on all the occasions. Even during war musical instruments were played. Lord Krishna's flute is known in the whole world for its magical music. In modern days Mr. Zakir Hussain is world famous as Tabla Mastro and Pandit Shiv Kumar Sharma is known as a great Santoor player all over the world".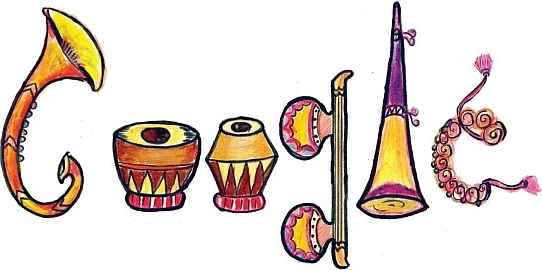 This year Google had received more than 1.5 lakh entries and 1 lakh online votes for its third Doodle 4 Google contest in India. Since 1998, Google has posted more than 900 doodles. Over the years, Google doodles have gained immense popularity across the world. The Google team has come up with several commemorate doodles on events ranging from anniversaries, scientific accomplishments to important dates in history.
Some of the recent doodles have been more interactive and dynamic. Google recently posted a video doodle to honour the legendary performer Freddie Mercury. The Les Paul doodle allowed users to play tunes, while the Lunar Eclipse doodle showcased June 15 midnight lunar eclipse.
Check out below some of the recent doodles: