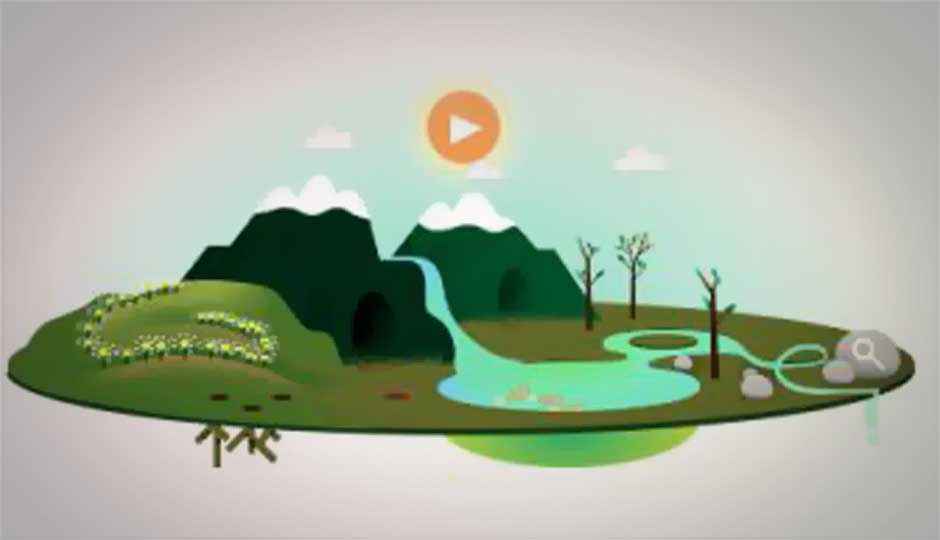 Google is today celebrating 43rd Earth Day with an animated and interactive doodle on its home page. Google's Earth Day doodle aims to capture a 'slice of nature's subtle wonders'. Based on the change of seasons theme, doodle allows users to discover animals, control the weather, and also observe the various seasons. Google has also shared a check-list to ensure users don't miss out on anything.
"I was fortunate to work on this doodle with my collaborators — Kris Hom, Mark Ivey, Greg Capuano, and Ryan Germick. And a very special thank you goes to Kris's high school teacher, Dr. Juan Fernandez, who served as our science advisor," wrote Leon Hong, Doodler in a blog post.
Today's Google doodle, Google's name is encrypted in the landscape. The circle of flowers makes up the G, while the two caves become the Os. The stream makes up the second G and closing E. There's a tree as the L of the logo, which grows with changing seasons. The stream drips off the edge of the doodle.
Upon clicking on the Sun, users can see seasons (spring, summer, autumn and winter) in motion and sun setting in the right, followed by dawn of moon from the left. The doodle also shows all phases of the moon, full, half, crescent and gibbous, as it moves across the sky.

On clicking the clouds, winter snow and rain are produced. Hovering the mouse over the doodle will show a gentle breeze. The Earth Day doodle also has wildlife, birds in the sky, fish swimming in the stream, bear in the cave, ants near the flowers and fireflies during the night.
Check out the full Earth Day 2013 Doodle sightseeing check-list below: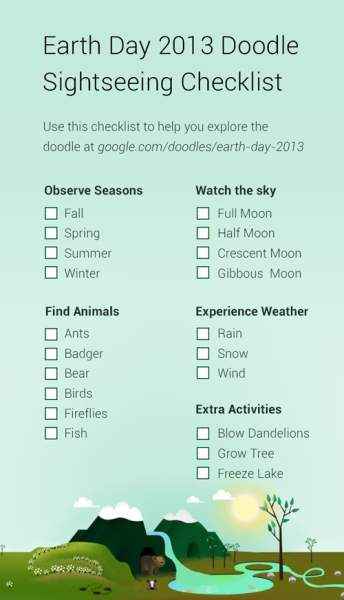 Also check out the video featuring Earth Day doodle: