Today's colourful Google Doodle pays tribute to Peter Carl Fabergé, on his 166th birth anniversary.
According to Wikipedia, Peter Carl Fabergé, also known as Karl Gustavovich Fabergé, was born on May 30, 1846, and died on September 24, 1920. Fabergé was a Russian jeweller, who is best known for the famous Fabergé eggs, which are Easter eggs made with precious metals and gemstones rather than more mundane materials.
Peter Carl Fabergé was born in Saint Petersburg, Russia, into a Baltic German jeweller family, headed by his father, Gustav Fabergé. In 1882, Carl Fabergé took sole responsibility for running the company, and was soon awarded the title Master Goldsmith, allowing him to use his own hallmark in addition to that of the firm.
Jewellery by the House of Fabergé was considered an example of superb contemporary Russian craftsmanship, and in 1885, Tsar Alexander III gave the House of Fabergé the title; 'Goldsmith by special appointment to the Imperial Crown'. The Tsar commissioned the company to make an Easter egg as a gift for his wife, the Empress Maria. Soon, this became a tradition, with future Tsars, such as Nicholas II, also ordering Fabergé eggs or Imperial Easter eggs. The tradition continued until the October Revolution.
While House of Fabergé is best known for its Imperial Easter eggs, it produced a wide-range of jewellery and other objects, such as silver tableware.
To check out other Google Doodles, refer to our previous coverage.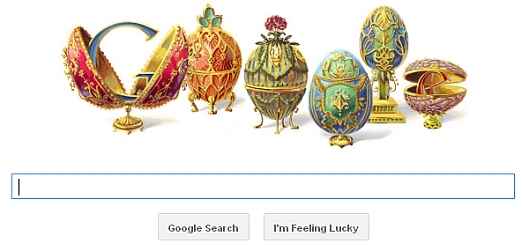 Source: Wikipedia