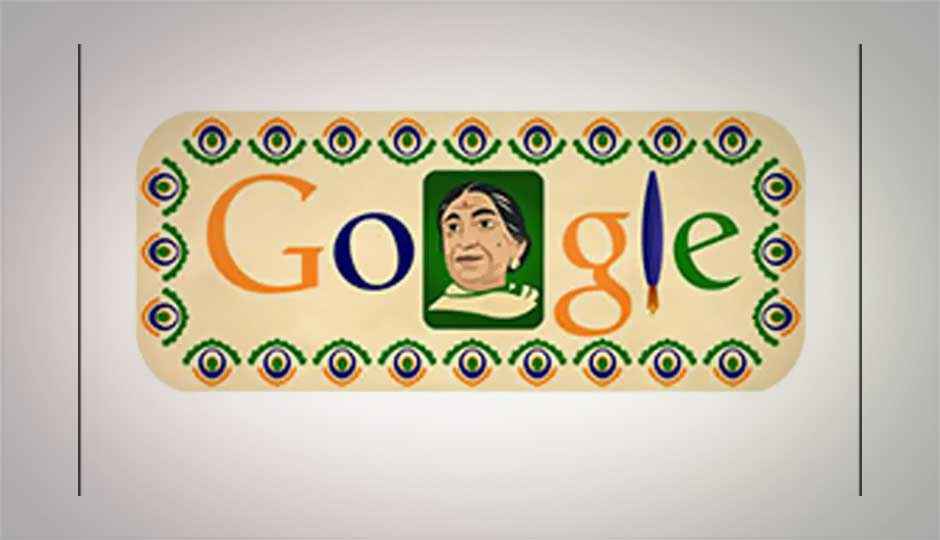 Google Doodle commemorates noted freedom fighter and poet Sarojini Naidu's 135th birth anniversary. Naidu's portrait is placed on the second 'O' within Google's official logo. Google also included a pen in place of 'L' to indicate Naidu's writing prowess.
Sarojini Naidu was a child prodigy, poet and Indian independence activist. She was born in Hyderabad on February 13, 1879. She joined the Indian National movement in 1905. During 1915-1918, she travelled across India delivering lectures on social welfare, women's empowerment and nationalism. Sarojini Naidu helped to establish the Women's Indian Association (WIA) in 1917.
In 1905, Naidu eulogized India in her poems published in three collections, The Golden Threshold (1905), The Bird of Time (1912) and the Broken Wing (1917). Her poems got so much of appreciation that Naidu became to be known as 'bul bule hind' (The Nightingale of India).
She was one of the framers of the Indian Constitution, the first woman to become the governor of an Indian state and the first Indian woman to become the president of the Indian National Congress in 1925. Naidu was awarded the Kaiser-i-Hind medal by the British government for her work during the plague epidemic in India. Naidu died of a heart attack in 1949.
Of late, India specific doodles have been growing. Last year Google posted doodles celebrating noted physicist CV Raman birthday, Indian Independence Day, Children's Day, poet Jagjit Singh, filmmaker Satyajit Ray and 'human computer' Shakuntala Devi among others. The last one was to mark India's 65th Republic Day on Jan 26.2014. The doodle showed motorcyclists, representing Indian armed forces, carrying the doodle which was painted in the colours of the Indian national flag.
Source: Indian Express