February 29 comes once in four years, and for today's special day, Google's latest doodle is a rare one. For it's an artwork that celebrates two occasions and not one.
That's right, today's Google Doodle -- a creative and artistic play on Google's corporate logo -- commemorates the Leap Day and the birth anniversary of Gioachino Rossini's birthday. To check the doodle, head over to Google's home page.
Here's a snapshot of the Google Doodle. It's a plain and simple illustration of four frogs, some of which are enacting an opera and the rest part of a colourful audience watching the play on stage.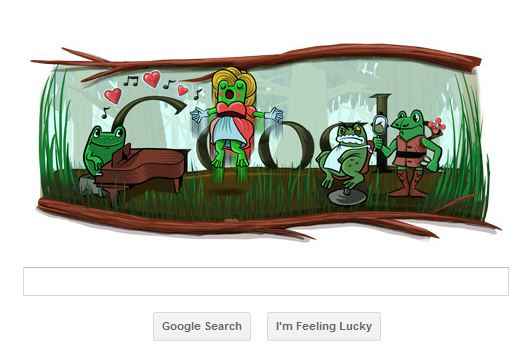 Google has very smartly blended the two central themes of today's doodle -- Leap Day (February 29) and Gioachino Rossini's birthday. The Leap Day theme is characterized by the presence of frogs in today's Google Doodle. Why frogs? Because the leaping amphibian has always been associated with art work depicting the leap year. Gioachino Rossini's connect is symbolized by what the four frogs are doing in the doodle.
For those who don't know, Gioachino Rossini was a famour opera writer from the 19th century. Born on 29 February, 1792, Rossini's The Barber of Seville is hailed as his greatest comic opera. The four frogs -- one at the piano, one as the soprano, a barber and his customer -- are all playful nods at the characters from Rossini's opera.
Another good-looking, smart Google Doodle bites the dust. Wonder when we'll see interactive, animated doodles, eh? Some day soon, when you least expect it, no doubt.