Google today celebrates 61st birth anniversary of popular author and humourist Douglas Adams with an interactive animated doodle.
Douglas Adams (11 March 1952 - 11 May 2001) began his career with radio broadcasting at one of the BBC Radio stations. His extraordinary contributions to the UK radio industry earned him a place in the hall of fame of the UK Radio Academy.
Adams, however, is arguably best known for his Hitchhiker's Guide to the Galaxy, which began as a radio comedy before being published as a series of five books, which first went into publication in 1979. Later a Hollywood film was also made on the series.
Today's doodle is filled with references to characters and events in Hitchhiker's Guide to the Galaxy series. The doodle has a cup of tea, which refers to one of Adams' Dirk Gently detective novels, called The Long Dark Teatime of the Soul, or even the mysterious-tasting cup of tea that Arthur Dent tried to have made by the Heart of Gold's food synthesizers. There's the towel, an essential hitchhiker's tool when travelling in space, which Ford Prefect uses to hilarious effect several times in the series.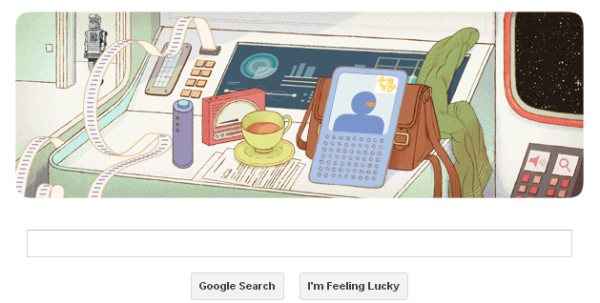 On clicking the lift door on the doodle, Marvin the paranoid android shows ups. The robot is one of Adams's most lovable characters from the Hitchhiker novels. With several clicks, users can see references to Adams' fictional creations such as Babel Fish, which helps translate any language. Clicking on the lens button on the right, Google directs you to search results on Douglas Adams. Check out today's Google Doodle in the video below: