Internet giant Google has marked the 82nd birthday of American zoologist Dian Fossey with a dedicated Google doodle. Today's doodle features large number of gorillas with one touching Fossey's hair while she is busy making notes. Google seems to be written in the midst of gorillas, mountains and greenery.
Fossey was born in San Francisco in 1932 and educated at the University of California. In 1963, Fossey met renowned paleoanthropologist Dr Louis Leakey in Africa, who told her about the need for research on gorillas. She studied the gorillas over 18 years and did path breaking research on the primates.
Fossey's research was funded by the Wilkie Foundation and the Leakey Home, with primary funding from the National Geographic Society. In 1967, she founded the Karisoke Research Center in Rwanda's Parc National des Volcans.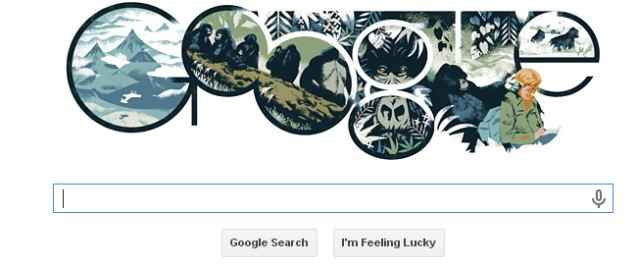 In 1983, Fossey published Gorillas in the Mist, about her work at Karisoke which became an international best seller. She also started the Digit Fund, to finance her anti-poaching patrols, which was later renamed the Dian Fossey Gorilla Fund International. Fossey was found murdered in her cabin in Rwanda in 1985 after she fought a long battle to protect mountain gorillas.
Google has shown a wide range of Doodle's in 2013, celebrating birth anniversaries of musicians, scientists, holidays, important world events and much more. Google's Doodle for New Year Eve's showed the numbers 2013 disco dancing under a glitter ball and speakers while the number 4 waits for its turn in the line up. The animated doodle said 'Happy New Year' if you put your mouse over it.