Google has put up an interactive doodle on its home page today to pay tribute to American sculptor and artist Alexander Calder on his 113th birthday. Friday's Google Doodle is replica of a mobile – a type of kinetic sculpture invented by Alexander Calder. Mobiles work on the principle of equilibrium and consists of hanging objects. This kinetic art uses motion for that artistic appeal.
When clicked upon, the doodle will take the visitor to search results for Calder with Wikpedia topping the search list. The doodle sways on its own and users can toy with it by mouse gestures.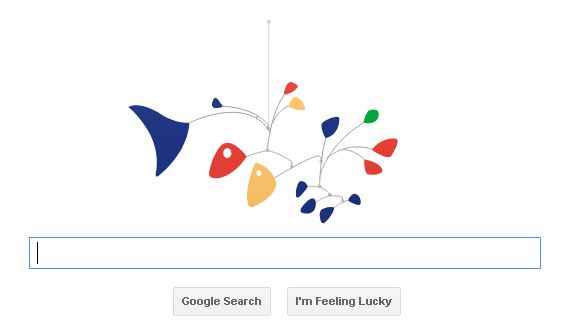 [RELATED_ARTICLE]
Calder, born on July 22, 1898, was famous for his mobile sculptures. Apart from his mobile and 'stabile' (unmoving) works, Calder is also known for his paintings, toys, tapestry, jewelry, lithographs and household objects. With the passage of time, Calder also increased the size of his mobile and stabile sculptures. He passed away at the age of 78 on November 11, 1976. The US government honoured him posthumously with the highest civilian honour, the Presidential Medal of Freedom.
Interactive and animated Google Doodles are now a pretty regular feature, and of late has come with some really interesting doodles. Les Paul doodle and Lunar Eclipse doodle are some of the notable ones. Les Paul doodle let the users play music, while the Lunar Eclipse doodle showcased live lunar eclipse on June 15-16.
Also read,