Google is today celebrating the 115th birth anniversary of noted American aviator Amelia Mary Earhart, with a dedicated doodle on its home page. Amelia Earhart is the first woman aviator to fly solo across the Atlantic Ocean.
Amelia, however, is popularly known for her mysterious disappearance over the central Pacific Ocean near Howland Island in 1937 during an attempt to make a circumnavigational flight of the globe. A fascination with Amelia's noted career, accomplishments and disappearance continues to this day.
It is believed that the fuel shortage brought down Earhart's flight. However, it's still unknown whether she died or managed to survive after the incident. To date there is no single confirmed/proven theory of what exactly happened.
Prior to her disappearance, Earhart lived as a widely popular international celebrity. Her accomplishments in the aviation industry motivated coming generation of female aviators. If you want to know more about Amelia Earhart, click here.
Today's Google doodle features Earhart with a yellow scarf blowing in the breeze, climbing into a Lockheed Vega 5b. Google's letters can be spotted on the underside of the wings. On clicking the doodle, users land on the search results page for Amelia Earhart. Check out the Amelia Earthart doodle below: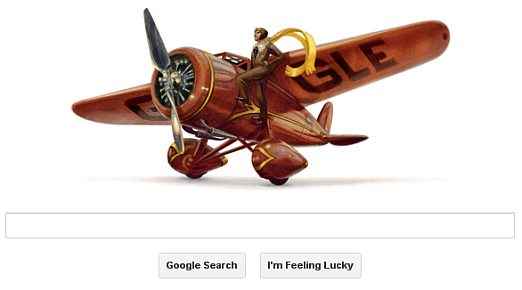 Unlike some of the previous doodles, today's doodle is a static one. Google has of late put some dynamic and interactive doodles to commemorate events, achievements and birthdays of noted people from different walks of life. The doodle dedicated to American musician Robert Arthur "Bob" Moog featured a instruments with which Moog brought musical performance into the electronic age. Users could use their mouse or computer keyboard to play a synthesizer's keys and adjust knobs to create unique sounds.
Also read,