Google has renamed its Circles icon on the Google Social Networking service to "Find People". The change is expected to help Google increase engagement with new users, who normally don't know what Circles stands for and stay away from the section while figuring out the interface of the site.
On clicking 'Find People', users will be directed to a new page that has a list of users they might want to add. Google will suggest connections from Gmail and other Google services. These suggestions will appear at the top of the page. Users can opt to see more suggests, as they can search by their school, workplace or other e-mail accounts.
"If you want to organize the people you've added a bit further, you can always click the "Your circles" button at the top of the page. From there you can use the circle editor to see all of your circles and decide who belongs in each one," says Google's Sean Purcell in a post.
Here's how the rebranded Circles page looks like: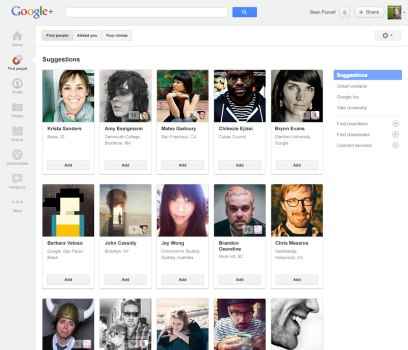 Google has been working to improve its social networking service, by rolling out various updates and modifications. In spite of being mocked as a 'ghost town', Google has continued to grow over the months, and has emerged as the second largest social networking platform, ahead of Twitter and YouTube. Read more about Google 's emergence here.