Google has continued to mesmerize us with its innovative doodles. Today is no different. The search engine giant has come up today with an interactive and musical doodle to celebrate what would have been 78th birth anniversary of Robert Arthur "Bob" Moog, an American musician who is known widely for inventing Moog synthesizer.
If you haven't heard of a Moog synthesizer, here's history of the device – The Moog company introduced the commercial manufacture of modular voltage-controlled analog synthesizer system. Company founder Dr. Robert Arthur Moog ((May 23, 1934 – August 21, 2005) had started selling vacuum-tube theremins in kit form while he was a student in the early 1950s and marketed his first transistorized theremin kits in 1961. Moog later developed the design and introduced first prototype synthesizer modules at the AES conference in 1964. To know more, head on to Wikipedia page.
Today's Google doodle is a playable logo which has been inspired by the instruments with which Moog brought musical performance into the electronic age. Users can use their mouse or computer keyboard to control synthesizer's keys and knobs to create unique sounds. The doodle maintains the original theme of Moog's synthesizer, as the keyboard has been patched with a 4-track tape recorder, allowing users to record and play back. Moreover, users can create songs/music and share them via short links or Google . Check out the sonic doodle below: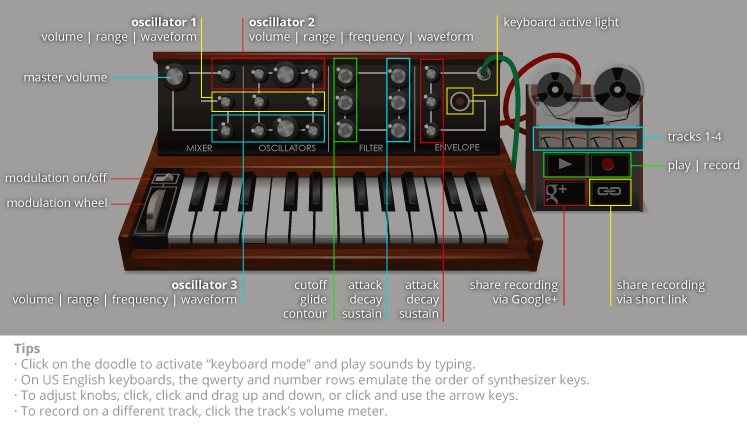 Google on its blog post elaborates how it created the musical doodle. It reveals the doodle was synthesized from a number of smaller components to form a unique instrument. "When experienced with Google Chrome, sound is generated natively using the Web Audio API—a doodle first (for other browsers the Flash plugin is used). This doodle also takes advantage of JavaScript, Closure libraries, CSS3 and tools like Google Web Fonts, the Google API, the Google URL Shortener and App Engine," adds Google.
Previously, Google has come up with various interactive and innovative doodles. Last one such doodle was the zipper doodle, which commemorated 132nd birthday of Swedish-American electrical engineer Gideon Sundback, also the inventor of zipper.
Also read,