Google today celebrates the 165th birth anniversary of Bram Stoker (the Irish novelist best known for his 1897 Gothic novel, Dracula), with a Gothic-styled doodle on its home page.
Stoker was born in Dublin in 1847. He studied at Trinity College while working as a civil servant in Dublin Castle and moonlighting as a newspaper drama critic. In 1878, he moved to London and became an administrator of the Irving Company at the Lyceum theatre.
Dracula was Stoker's fifth novel, which published in 1897. Stoker is said to have spent several years researching about folklore and stories related to vampires. Apart from Dracula, Stoker wrote quite a few novels and short stories.
To know more about Bram Stoker and his work, click here.
Today's Google doodle has the five letters of the Google logo inspired from the cover of the first edition of Dracula. Clicking on the doodle takes you to the search result page on Bram Stoker books. Check out today's doodle below: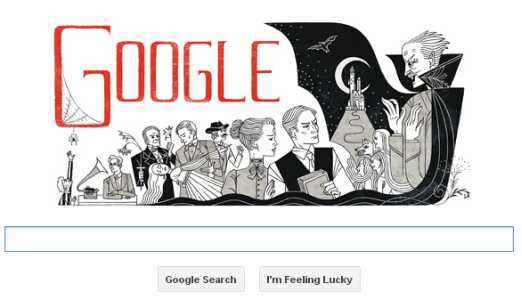 Bram Stoker Google Doodle