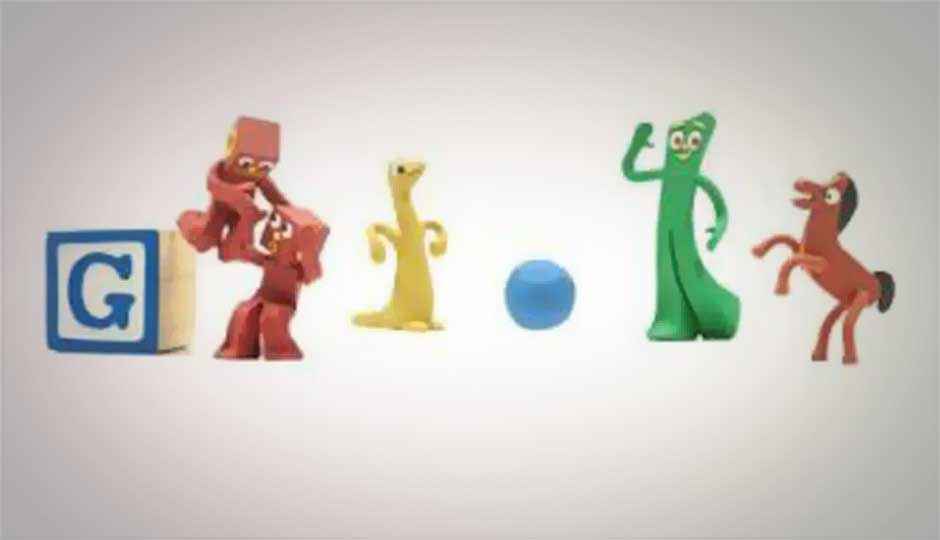 Google is back with yet another interesting doodle. Today's Google doodle pays tribute to stop motion animation pioneer Arthur "Art" Clokey on what would have been his 90th birth anniversary. The doodle features Clokey's popular Gumby characters.
The Gumby Google doodle is collection of a wooden block and five clay balls. The wooden block features 'G', while the clay balls follow the Google colour scheme. Each clay balls turns into a different character when clicked on. At top of the logo, "Art Clokey's 90th Birthday" links to the search results page for Clokey. [RELATED_ARTICLE]
Clokey is mainly known for his contribution to the art of stop motion and clay animation, starting with his film titled 'Gumbasia' in 1955. Clokey and his wife Ruth created characters 'Gumby' and 'Pokey'. The characters were huge hit on TV as they appeared on `Howdy Doody Show` and `The Adventures of Gumby`. Clokey is also given credit for introducing clay models such as objects, animals and people in TV commercials.
"He was the first to develop clay animation techniques and the first to use them in full-length feature films. He invented trimentional animation based on kinesthetic principles, and it became the signature of his career," says Gumbyworld.com.
"(Clokey) was a dynamic creator who inspired children and adults for the past six decades. Gumby, his most famous character, is a pop-culture icon. He and his first wife, Ruth, also created the famed Davey and Goliath series," the site added.
Google's recent doodles have been really impressive. The doodle dedicated to legendary artist Freddie Mercury featured a video, while the Les Paul doodle allowed users to play music. Since its first doodle in 1998, Google has posted nearly 900 doodles, commemorating events ranging from news events, birthdays, achievements and other important dates in history.
Also read,