Google today celebrates 176th birth anniversary of American author and humourist Mark Twain by putting up its popular doodle on its home page. Today's Google doodle depicts a scene from Twain's one of the popular novels, The Adventure of Tom Sawyer. The new doodle is visible across the world including Asia and Europe.
The Mark Twain doodle is a full-width illustration, featuring Tom Swayer and his friend Ben whitewashing a fence. The doodle shows Tom and Ben at various stages of the paintwork job. The Twain doodle is considered to be the biggest doodle so far. Clicking on the doodle will direct you to a search result page with 'Mark Twain' as the keyword.
Mark Twain a.k.a Samuel Langhorne Clemens (November 30, 1835 – April 21, 1910) is remembered for his various literary works such as The Adventures of Tom Sawyer (1876), and its sequel, Adventures of Huckleberry Finn (1885).

Apart from the gigantic doodle, Google is also advertising its newly launched social networking site Google with a blue strip placed just above the doodle. To refresh your memory, Google was launched in June and soon became one of the fastest growing social networking sites ever.

Google doodles are highly popular across the world. Some of the recent doodles have been highly interactive and dynamic. Google recently put up a video doodle in honour of legendary artist Freddie Mercury. The Les Paul doodle allowed users to play music, while the Lunar Eclipse doodle showcased the June 15 midnight lunar eclipse. On 14th November, Google posted a musical instrument doodle designed by seven-year-old Varsha Gupta of Greater Noida.
Check out below some of the recent doodles: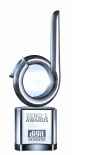 "Don't miss the Zero1 Awards in the December 2011 Collector's Edition of Digit. Book your copy now!"