Google India has announced its Doodle 4 Google competition for 2012 and has invited school students between the ages of 5 to 16 years across the country to create innovative Google doodles. Winning doodle will be featured as the Google logo on the 14th November, which is also celebrated as Children's Day in the country. This year's theme is "Unity in Diversity".
Google says the contest had received more than one lakh entries last year. And this year, the company hopes the participation will increase as the contest will reach 40 cities. Announcing this year's competition, Nikhil Rungta, Country Marketing Head, Google India said, "Doodle 4 Google is a great opportunity for students to explore the intersection of art and technology, while sharing their talents and creativity on a national scale. Through this program we hope participants will have fun, think creatively and learn something new all at the same time."
As per the tradition, the participants will be divided in three different categories. Group 1 will feature students from class 1 to 3, Group 2 has students from class 4 to 6 and Group 3 has students from class 7 to 10. The new thing introduced by Google is that the participants will divided into four regions – North, South, East and West. Google will shortlist three students from every region across each of the three groups.
The first round of entries will undergo preliminary judging, post which 12 entries will be announced based on a selection by a panel consisting of independent judges. All chosen entries will be exhibited for public voting, and based on the number of votes, one winner from each group will be selected. The Jury along with the original Google Doodler will then choose the final winning Doodle from all the finalists.
The last date to submit the entry is October 23rd, 2012. Check out other submission guidelines for the Doodle 4 Google competition here.
Take a look at the last year's winning doodle from Noida's Varsha Gupta: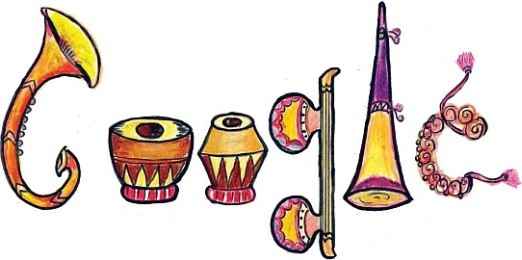 Also read,