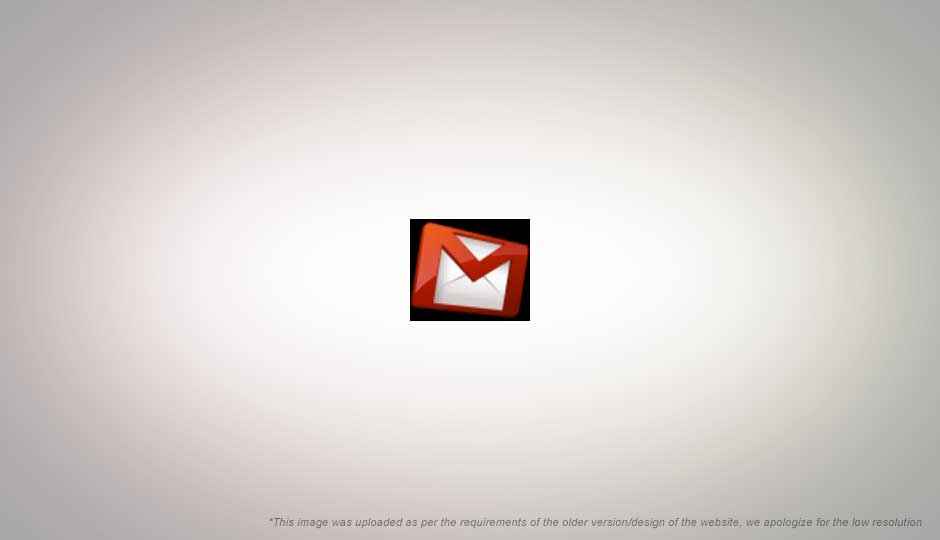 One of the Web's most popular email service providers, Google's Gmail, had another outage on Tuesday, September 1. The service was down for approximately 100 minutes, which many are describing as the longest they have had to face. A bit of exaggeration? Maybe not, considering how closely it is tied into the daily work schedule and entertainment facilities of a lot of users.
Ben Treynor, Gmail's VP Engineering and Site Reliability Czar, wrote
a lengthy explanation
on the official Google blog as to what happened.
In a nutshell, while performing a routine upgrade on some servers, traffic was rerouted to other servers which couldn't bear with the extra load. As traffic was rerouted from these servers, it caused a chain reaction causing the whole system to get overloaded and collapse.
"As a result, people couldn't access Gmail via the web interface because their requests couldn't be routed to a Gmail server. IMAP/POP access and mail processing continued to work normally because these requests don't use the same routers," Treynor wrote.
The problem was soon fixed, but as it turns out, at the cost of people's faith in Gmail.
Twitter was the first to see the angry response of consumers. Angela of Keystone blog writes: "In just minutes, over 20,000 tweets came up in a search for 'Gmail'."
PaidContent.org reported how the 'Gone Google' hashtag used to promote Google Apps on Twitter suddenly became a complaint forum and cited a screenshot of the same: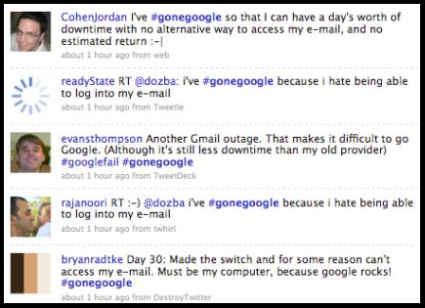 Meanwhile, Gmail loyalists are still going to continue using the service, but are no longer trusting it blindly and have started making backups on their desktop email clients.
"That one and half hour was pretty freaky," said 24-year-old US-based student Anirudh Kashyap, who has started backing up his inbox. "It was a whole hour with no mail, no backup, in the middle of the day when you expect the most inbox activity. I read that POP and IMAP was working, so I have now started backing up my inbox in case there is a future outage – whether temporary or permanent!"
So are you going to be backing up your inbox? If so, check out
this article
by Kshitij, where he takes a look at PostBox, describing it as a 'Thunderbird on steroids'. Alternatively, you can always check out the tips and tricks we have previously featured for
Mozilla Thunderbird
,
Outlook 2007
and
The Bat
.