Google earlier this year introduced 'quick action buttons' for Gmail users, allowing them to manage digital to-do's directly from the inbox. These quick action buttons appear next to certain types of messages in the inbox and let users to take an action on an e-mail without having to open it. For example, users can directly RSVP to any Calendar invite or rate any restaurant they visited recently. Google has now broadened the 'quick-action buttons' to include more useful features.
The latest update to "quick action buttons" now incorporate messages from YouTube, Dropbox, Google Docs and several other online services. OpenTable has also been included, allowing users to modify any reservations they've made directly from the inbox.
Those who are avid uploaders on YouTube and Vimeo can view the finished uploads with the new "View video" button. There's also quick buttons for viewing a Dropbox folder or Google Docs, Sheets, and Slides shared with users.
Google has also expanded new feature to the third party developers. "The list goes on, and we're continuing to add even more buttons to make it easier for you to get things done in Gmail. If you're a developer looking to add this feature to emails you send, check out our Developers site to learn more," says Google in a post.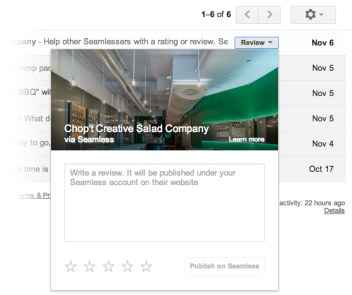 View finished uploads with a single click