eMarketer says that global mobile phone users will increase to 4.55 billion this year. Smartphone users base will grow to 1.75 billion, driven by markets in developing countries including Asia-Pacific and Africa in its 'Worldwide Mobile Phone Users: H1 2014 Forecast and Comparative Estimates' report.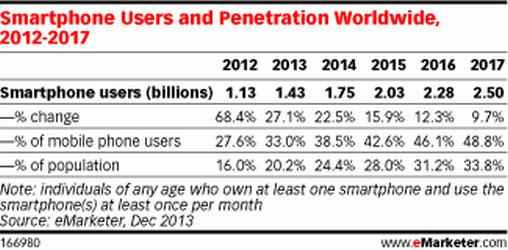 eMartketer report stated, "The global smartphone audience surpassed the 1 billion mark in 2012 and will total 1.75 billion in 2014. eMarketer expects smartphone adoption to continue on a fast-paced trajectory through 2017. The research firm expects 4.55 billion people worldwide to use a mobile phone in 2014. Mobile adoption is slowing, but new users in the developing regions of Asia-Pacific and the Middle East and Africa will drive further increases," it added.
"More than 2.23 billion people worldwide, 48.9 per cent of mobile phone users, will go online via mobile at least monthly in 2014 and over half of the mobile audience will use the mobile Internet next year," eMarketer said.
The report added that in 2014, mobile devices will become the primary computing devices for many end users. The firm stated that mobile phone users are fast switching over to smartphones as devices and 3G and 4G networks become more affordable.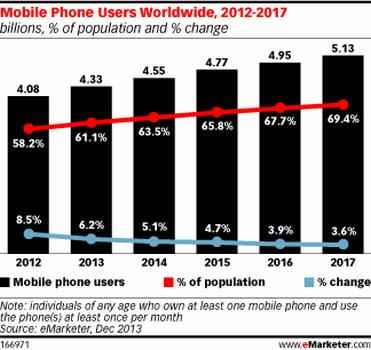 According to recent report by TRAI, India will surpass US to become the second biggest Internet population soon. India's Internet subscriber base has grown nearly 20 percent in June 2013 quarter over the previous quarter and if India maintains the same growth rate it will soon overtake US which has over 260 million internet users by June 2014.
Source: eMarketer