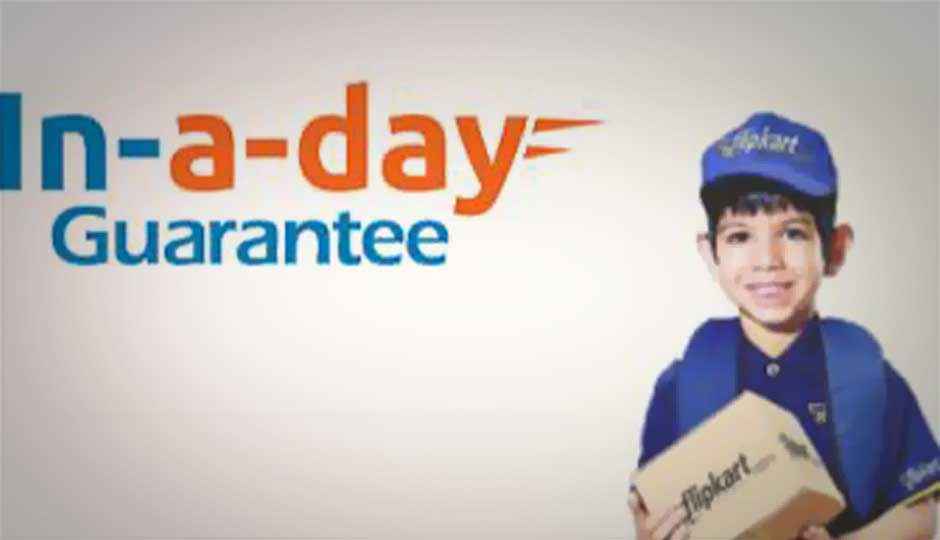 Competition in the e-commerce segment is really heating up. Days after Amazon.in announced its 'one-day' guaranteed delivery service, Flipkart has just launched a similar facility for its customers.
Flipkart is offering 'In-a-day Guarantee' service in select cities - Delhi, Noida, Mumbai, Chennai, Bangalore, Pune and Hyderabad. To get the delivery next day, customers need to place their orders before 6pm and pay an additional charge of Rs. 90 per item.
Flipkart's In-a-day Guarantee is only available for products sold by seller WS Retail. The company points out it might be unable to deliver some products next-day due to logistical reasons.
If a product isn't delivered within stipulated period of time, the amount charged for shipping refunded back to your Flipkart Wallet. However, Flipkart will show you the expected delivery date while place an order. If you've made a Cash on Delivery order, Flipkart will collect the delivery charge as part of the order, but automatically refund to your Wallet within 24 hours.

"Our money-back guarantee has got you covered in case our courier partner is unable to initiate the In-a-Day Guarantee delivery within the promised date. We will refund your delivery charge within 24 hours. We will also remit twice that amount to your Wallet for future purchases on Flipkart. This amount is non-refundable," explains Flipkart on its website.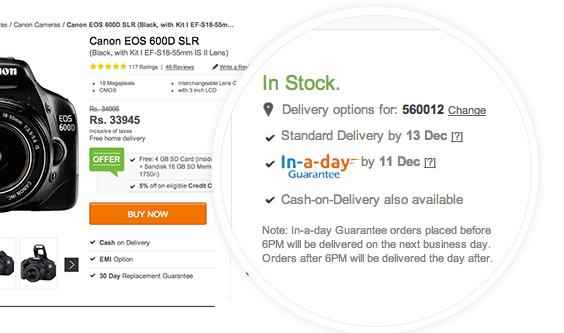 "We have had a lot of customers requesting urgent deliveries, for reasons ranging from occasion-led gifts to pre-travel shopping. But given the large volumes that we handle it wasn't feasible to address them on a case-to-case basis. We have now built the capability into our supply-chain and can now offer it as a guaranteed feature. This value-added service is available to consumers who need it – making online shopping a viable option even for last-minute purchases. We hope this will further accelerate the adoption of e-commerce in the country," says Ravi Vora, Sr. VP – Marketing, Flipkart.com.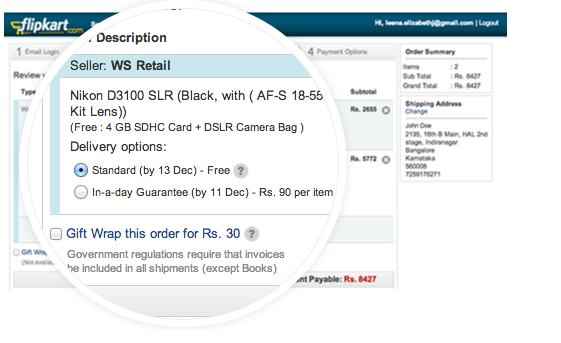 Last week, Amazon.in launched its one-day assured delivery service for its customers. Amazon will be offering the service with an additional charge of Rs .99. Amazon's new service is available for select cities. Amazon also offers guaranteed two-day delivery for a discounted price of Rs.49 as a part of the limited period offer.
New guaranteed next-day delivery service from Amazon and Flipkart is certainly going to heat up the competition in e-commerce segment. It'll be really interesting to see if other online retailers/marketplaces come up with similar services in the near future. Moreover, the competition will certainly benefit the customers.
What do you think about Flipkart's 'In-a-Day Guarantee' service? Let us know in the comments section below:
Source: The Hindu