As 2012 nears its end and the New Year knocks on the door, Facebook and Twitter are helping us to take a look back at our favourite moments on the social networks.
Facebook on Wednesday announced 'Year in Review for 2012', featuring the most popular celebrities, songs, movies, events, and technologies of the year. With the addition of personalised Year in Review timelines, users can also reflect on their own memorable moments of 2012.
Also, users can see the important moments on their Facebook Timeline this year by visiting Facebook.com/yearinreview. The personalised Year in Review shows users' top Facebook moments in 2012, such as life events, highlighted posts and most popular stories. The review also includes how many friends users added and pages they liked this year.
"Today we're releasing Facebook's Year in Review, a look back at the people, moments and things that created the most buzz in 2012 among the billion people around the world on Facebook," says the Social Networking company.
"We took the pulse of the global community on Facebook in 2012 to assemble a series of trend lists, chronicling the top events, the most popular public figures, the most listened to songs on Facebook and more. These lists are available on Facebook Stories at FacebookStories.com/2012."
Here's how Facebook's Year in Review for 2012 looks like: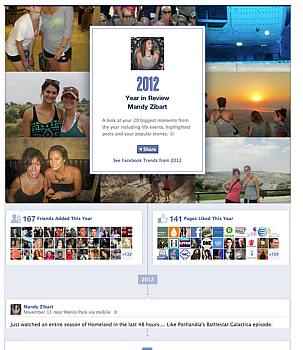 Like Facebook, Twitter has come up with its year review. The 2012 Year on Twitter shows compilation of all the major moments that the social network's users were involved during the year.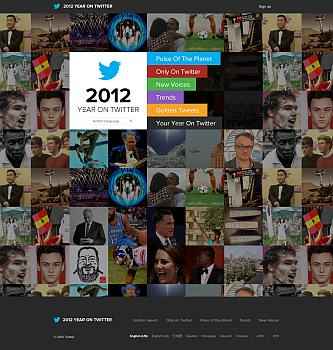 Twitter's Karen Wickre explains in a blog post: "In 2012, everyone on Twitter brought us closer to moments and places that used to be far away or inaccessible: A Tweet from the bottom of the ocean. Tweets from Mars. An extraordinary view from space of Superstorm Sandy. A quiet backstage moment with a presidential candidate. All of these and millions of other such moments were ours to experience directly wherever we were, in the midst of work or play or travel."
"You can explore and discover all of these moments and people who made this year on Twitter unique at 2012.twitter.com, and you'll have the same immersive experience on your mobile device. We've taken a look back at the Tweets of 2012 and use both data and editorial signals to showcase some of these moments and conversations around several themes."