Facebook is now reportedly asking users why they have hidden particular content from their news feed. Currently, if a user unsubscribes to a post or hides a particular content source, he/she gets lesser content related to that. The social networking giant has however tweaked this option in what is believed to help the company understand reasons why users are hiding the content.
Facebook's Product Manager for Ads Fidji Simo confirms such tweak in the option and reveals Facebook is soon going test new menus and options for better understanding of users experience. The new menus and options are likely to be available over the next four to three months.
"Over the next few months what you will see from us is more on why people like and don't like certain things in their feed," Facebook's Product Manager for Ads Fidji Simo told ABC News. "We are planning to refine those so users can tell us exactly the reasons they are hiding that piece of content."
Simo adds the move will help the company easily determine if any content was offensive or uninteresting from the news feed. The new options will be available for all types of feed posts, including ads and sponsored stories.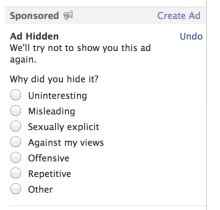 Separately, Facebook briefly tested a new feature that prompts users to sign up for notifications when they like a Page. Spotted by Inside Facebook, the feature provides users options "get notifications" or "not now". Notifications can be turned on later by clicking on the Like button.