Facebook is about three things. One, staying in touch with your friends and family, two, playing games and browsing millions of apps that are available on the website, and three, stalking your ex if she hasn't blocked you.
Up till now, the games and apps that you were exposed to came from the Facebook "wall" and were the games your friends were playing. So to put it simply, you found out about a new app once your friends had played it and posted their scores and achievements.
The new Facebook App Centre will have all the apps available for the social networking site under one roof, but it isn't competing with the big guns like Apple's App Store and the Google Play Store. It's more like a central location housing all the apps. The apps that will be visible to you however will still be based on the same mechanics as they are now i.e., the apps that are most relevant to you or the apps that are being played by your friends will be highlighted on top.
"Success through the App Centre is tied to the quality of an app," wrote Facebook employee Aaron Brady in a blog post. "We use a variety of signals, such as user ratings and engagement, to determine if an app is listed in the App Centre."
Zdnet in its report says users can access App Centre on the Web as well as in the native Android and iOS Facebook apps. It further says the url for the App Centre will be facebook.com/appcenter, which right now takes you to a "The page you requested was not found" error page. The report also features a screenshot of the Facebook App Centre page: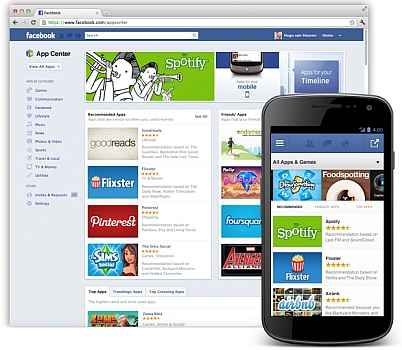 This new App Centre will be a new way for developers to earn money. Till now, the developers made money only through in-app purchases. But with the new App Centre, developers will have a chance to offer paid apps to the consumers.
This is a win-win situation for both, the developers and consumers. Consumers will have access to a new app store and have the potential to interact with numerous more apps. The developers to will have a wider scope to monetize their offerings.
Also read,