Facebook is reportedly testing a new feature called 'Mail A Postcard', which allows users to turn their photos on the social networking website into real postcards and have Facebook send it to their friends. Facebook will be charging users a small fee for the service, though the company is currently working on different price points.
The postcard service was originally built at as a Hackathon Project. The feature is said to be powered by a mobile-photo-to-keepsake startup Sincerely, the company known for Postagram, an app that allows you to send Instagram photos as postcards using an app on your phone for $.99.
"A few months ago, some engineers built a fun feature that allows people to mail their Facebookphotos as a physical postcard to any of their friends on Facebook," VentureBeat quotes a Facebook spokesperson as saying.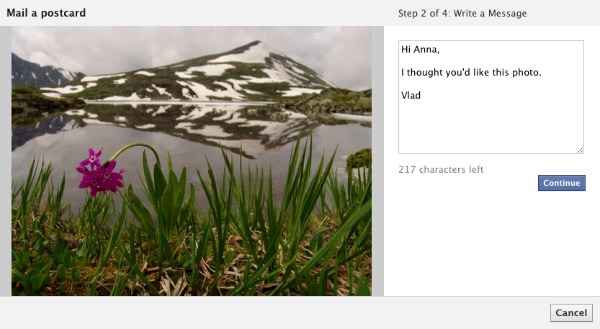 "You can send your own photos to any of your friends or your friends' photo to them. The front will be the photo and the back you can add a note for your friend, just like a normal postcard."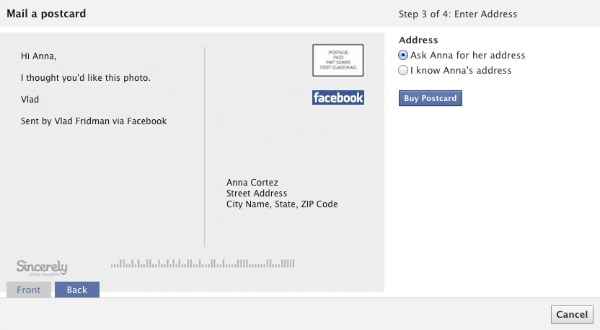 Facebook's new service is currently available for select users only. Other details of the feature are still sketchy and Facebook has yet to release an official confirmation about it.
After launching an IPO, the social networking has been making various efforts to up its revenues. Recently, Facebook introduced pay to promote feature for Pages. The pay to promote service enables brands to pay money to the social networking company to have their posts greater visibility. To know more about the pay to promote service, read our previous coverage.
Facebook's rumoured Mail A Postcard service, if officially launched and implemented, will definitely help the social networking company boost up its revenues. Also, the service could give users a new reason to upload and interact with photos on Facebook.
What do you think of the idea of sending real postcards with your Facebook photos? Let us know in the comments section below:
Source: VentureBeat Image courtesy: Mashabale
Also read,