Facebook is currently testing a system that allows users to pay to highlight or promote their posts on the Social Networking site. As per the new system, also dubbed as the "pay to promote" or "pay to highlight" tool , users can pay a small fee for making their posts more prominently visible in the news feeds of friends. According to reports, Facebook is testing the new system among users in New Zealand.
The tests of the "pay to promote/highlight" were first spotted by a Facebook user in Whangarei. A Facebook spokesperson, meanwhile, has confirmed to the BBC the offer was genuine. "We're constantly testing new features across the site," said the spokesperson. "This particular test is simply to gauge people's interest in this method of sharing with their friends."
The Facebook spokesperson further says they were trying out different methods of highlighting posts. The "pay to promote" features a range of charges levied to make posts more prominent on the website. Comments on the tests suggest the highest price being charged was $2, the spokesperson added. Payments could be made via credit card or PayPal.
How highlight feature works? While you're (if you're int he testing group) posting a status update, you will see the "Highlight" option next to the Like buttons. If you clicked, a box appears featuring range of fee for highlighting. Highlighted posts are likely to appear in the news feed for longer and appear to more friends and subscribers.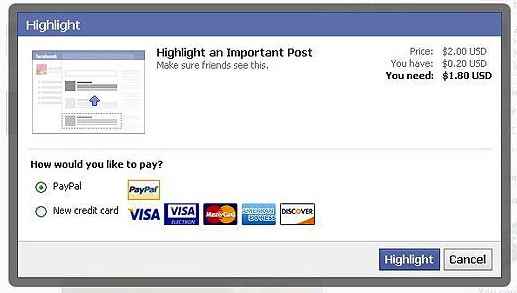 The screenshot posted by Techcrunch shows how users can pay for their posts
Will you pay for promoting your posts on Facebook? Let us know in the comments section below:
Source: Techcrunch
Also read,