Facebook is testing a new feature which makes users pay the company $1 to send an e-mail message to the people with whom they have no connection on the Social Networking website. Facebook says the feature will help discourage unwanted messages and facilitate delivery of messages that are relevant and useful. The company, in the meanwhile, has also announced new filters for managing inbox.
The feature is being tested with a "small number" of users in the U.S. and to begin with users are limited to one paid message per week. Message for which a user has paid $1 will be delivered in the recipient's inbox rather than the "Other" folder.
"Today we're starting a small experiment to test the usefulness of economic signals to determine relevance. This test will give a small number of people the option to pay to have a message routed to the Inbox rather than the Other folder of a recipient that they are not connected with," the company says in a statement.
"This test is designed to address situations where neither social nor algorithmic signals are sufficient. For example, if you want to send a message to someone you heard speak at an event but are not friends with, or if you want to message someone about a job opportunity, you can use this feature to reach their Inbox. For the receiver, this test allows them to hear from people who have an important message to send them."
New message filtering options
Facebook recently rolled out updated terms and replaced its "Who can send me Facebook Messages" with basic or strict filtering. The basic filtering allows users to see messages from friends and people they may know in their inbox. The filter is applicable for users whose message settings are set on "friends of friends" or "everyone". The strict filtering enables users to have only messages from friends. The feature is applicable for those who set message settings on "friends" only.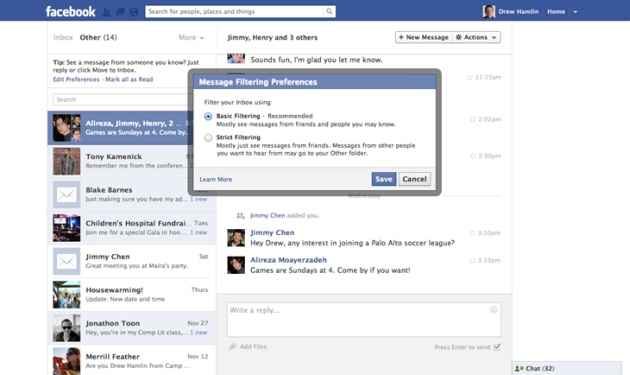 You can read more about Facebook new's message filtering options and 'paid' message service here.
Also read,
Facebook news feed to show autoplay video ads?
Instagram won't sell user photos
Facebook to launch photo-sharing app to compete with Snapchat: Report