Facebook is reportedly going to revamp the emoticons on the site. According to reports, the Social Networking giant has enlisted Pixar story artist Matt Jones and US UC Berkeley psychologist Dacher Keltner to develop new emoticons that should include all emotions we want to express.
BuzzFeedreports Jones is working independently on the project, not on behalf of Pixar. "Facebook was canny enough to realize that traditional emoticons are quite bland," the site quotes Jones as saying. "At Pixar we consider emotional states every day with every drawing we make. Our work is informed by the years of study we do, constantly studying people's gestures and expressions in real life."
According to the report, Dacher Keltner has already begun working with Facebook on improving the emoticons. On learning about Jones' involvement in the project, Keltner offered him Charles Darwin's The Expression of the Emotions in Man and Animals, which shows likenesses between human and animal facial movements.
Some of the artworks published by Buzzfeed show really interesting emoticons that cover emotions such as maternal love, contemplation and affirmation. Jones is apparently experimenting with 3D emoticons as well. There's no word yet on when the project will be completed and implemented.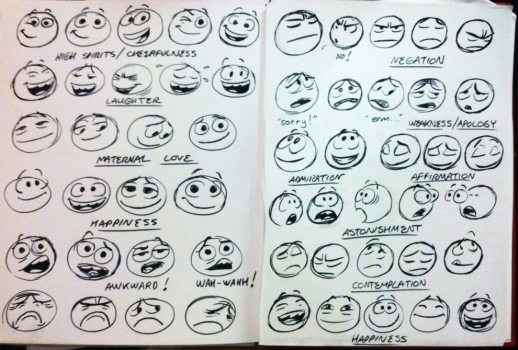 New Facebook emoticons in the works
Recently, reports suggested Facebook is experimenting with its status bar, making it more visual with new emoticons. The new visual status composer will allow users to choose from feelings such as reading, watching, listening to, drinking or eating. Then users can pick from the given options.
Check out below some of the options that will appear: