With LokSabha polls just around the corner, Facebook brings to you a new platform - Facebook Talks Live - where you can ask country's top politicians Narendra Modi, Mamata Banerjee, Lalu Yadav, Akhilesh Yadav, Arvind Kejriwal among others about their electoral agenda.
Facebook has teamed up with Newslaundry and NDTV to launch Facebook Talks Live , scheduled to go live next month. You can put up questions for candidates at https://www.facebook.com/FacebookIndia on February 20, 2014.
Journalist and Editor –in Chief of newslaundry.com, Madhu Trehan will be taking up your questions on FBtalkslive which will telecast LIVE on NDTV and livestreamed on https://talks.facebooklive.com/.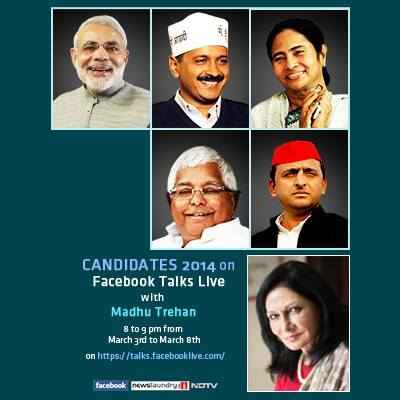 BJP's prime ministerial candidate Narendra Modi will be the first politician to appear in the conversation, scheduled to telecast on March 03.
"We have always been focused on making sure that we give people the power to share, and to make the world more open and connected. This and the opportunity to engage actively and regularly with constituents have led campaign teams and leaders to use the medium, making Facebook a core part of the political infrastructure in the country," says Public Policy Director (India and South Asia) of Facebook, Ankhi Das.