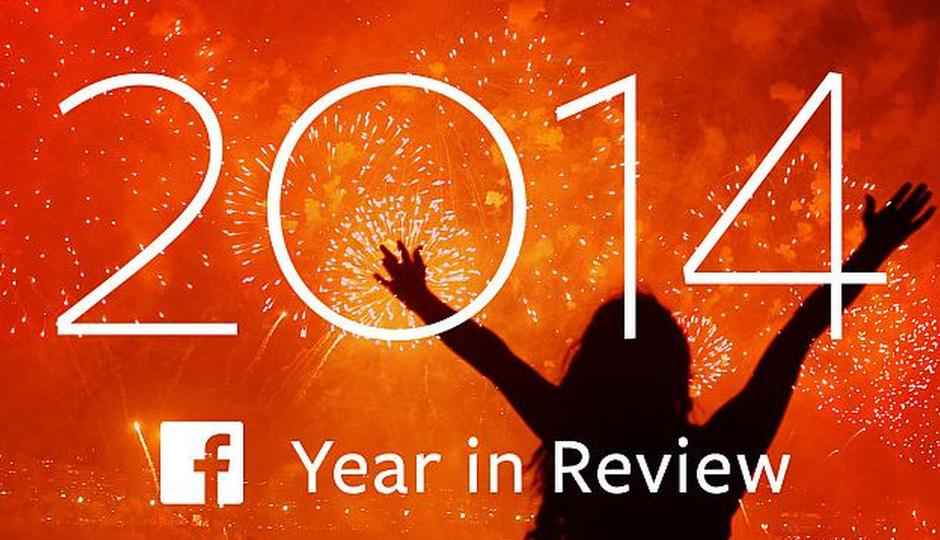 Facebook has released its 2014 India Year in review top 10 lists which reveal the most talked-about global topics, including the years biggest news stories, sporting events, and social media crazes.
Facebook revealed that the India General Elections 2014 were the most talked about topic in the country, followed by the Indian Premier League, World Cup, Mars Orbiter Mission and Kashmir Floods.
India Gate was the most checked in place of 2014, followed by Taj Mahal, Gurudwara Bangla Sahib, Nandi Hills and Marine Drive. Read: Narendra Modi becomes second most-popular leader on Facebook
The social networking giant revealed that globally the FIFA World Cup was the top trending topic. Apart from this Ebola virus outbreak, Elections in Brazil, Robin Williams and the Ice Bucket Challenge were the top talked about stories in the world. Facebook also revealed that Cookie Jam, Bubble Witch 2 Saga, Candy Crush Soda Saga, Klondike and Kim Kardashian: Hollywood were the top played games on the social networking site.
The 2014 Year in review was compiled by Facebooks's Data Analyst Betsy Cameron, Product Marketing Manager Peter Yang and Consumer Content Manager Angie Newman. The social media site says that its Year in Review lists are compiled by measuring how frequently a topic was mentioned in Facebook posts made between January and December 2014.
Announcing 2014's Year in Review lists, Facebook stated in a blog post, "Every day, people discuss the topics and stories that are important to them on Facebook. Today we're taking a look back at the moments, places and people that moved us in 2014."
Top Global Topics of 2014
1. World Cup
2. Ebola virus outbreak
3. Elections in Brazil
4. Robin Williams
5. Ice Bucket Challenge
6. Conflict in Gaza
7. Malaysia Airlines
8. Super Bowl
9. Michael Brown/Ferguson
10. Sochi Winter Olympics
Top Global Games of the Year
1. Cookie Jam
2. Bubble Witch 2 Saga
3. Candy Crush Soda Saga
4. Klondike
5. Kim Kardashian: Hollywood
6. Old Vegas Slots
7. League of Angels
8. Hero Defense
9. SuperCity
10. Sparta: War of Empires
India Year in Review
Most Talked-About Topics in India
1. 2014 India General Election
2. Indian Premier League
3. World Cup
4. Mars Orbiter Mission
5. Natural Disaster (Kashmir Floods)
6. Xiaomi enters India market
7. Alia Bhatt
8. Mary Kom Biopic
9. Malaysia Airlines
10. Conflict in Gaza
Most Checked-Into Places in India
1. India Gate
2. Taj Mahal
3. Gurudwara Bangla Sahib
4. Nandi Hills
5. Marine Drive, Mumbai
6. Marina Beach
7. Ramoji Film City
8. LuLu Mall
9. Hauz Khas Village
10. Coorg
Other Popular Deals
10.or E (Beyond Black, 3GB...

Rs. 9999

Buy Now

Nokia 7 Plus (Black, 4GB RAM,...

Rs. 25900

Buy Now

Honor 8 Lite 64 GB (Black)

Rs. 12253 *

Buy Now
*Includes Cashback
​