Facebook is reportedly prepping a new feature that will allow its users to view others' wall posts in the language of their choice with just a single click. The "Translate" button, reports say, is presently visible to only a handful of Facebook users and is expected to be rolled out elsewhere very soon. [RELATED_ARTICLE]
According to InsideFacebook, the new button is placed next to the "Like" option. On clicking the "Translate" button, the language in which the status or post was originally written gets translated to the user's profile language or the default language they've set. The "Translate" button is then replaced by a "Original" button, which allows the users to switch back to the original language.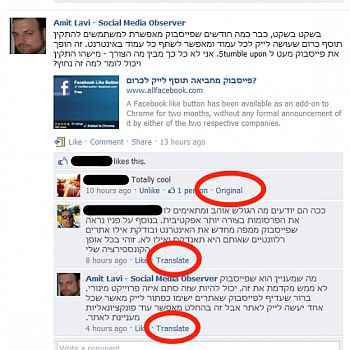 While the InsideFacebook report does not clarify how many languages are actually supported by the feature, it tips English, Spanish, French, Hebrew, and Chinese as the languages available at rollout. The feature, however, does not work for all comments. In case Facebook is unable to translate the content, it will return with an error message stating: "There is no translation available for this story at the moment."
Moreover, the new feature is limited to Facebook pages presently. Also, there is no word on a mass-translate option that will translate a foreign user's profile into one's native language. However, the new move will certainly help Facebook users get much more access to the global community on the social networking platform. After the availability of the new Translate feature, the users will not need to use a third-party translate tool to post texts in their language of choice.
Also read,