Facebook has made interaction on the social networking more fun as it now allows you to reply your friend's status update by images. Users can post photo comments using the new camera icon in the reply bar. The new feature is being rolled out globally, initially to web and mobile site users.
"Now you will be able to add photo comments to posts across the site," PCMag quotes a Facebook spokesperson as saying. Facebook hasn't yet revealed when the new feature will be available on its mobile apps, though its availability looks inevitable.
Facebook's Bob Baldwin has posted some examples of the new feature, saying, "When I'm talking with a friend, sometimes showing a photo helps me tell a story much better than words alone. If we're hanging out in person, I can show a photo from my phone, but on Facebook I'd have to post a link to a photo. Now, you'll be able to attach a photo directly when posting a comment. I hope this will make threads with friends more expressive and engaging."
Baldwin further said he had developed the feature at Facebook Hackathon with Eric Faller, Zizhuang Yang, Ashwin Bharambe, Brandon Souba, and Alex Madjar.
"I also got some clutch help just before launch from Aditya Koolwal, Dan Muriello, Eugene Bogatov, and Summit Shrestha. I'm so happy to launch, as this is the most exciting photos feature I've shipped to date," he added.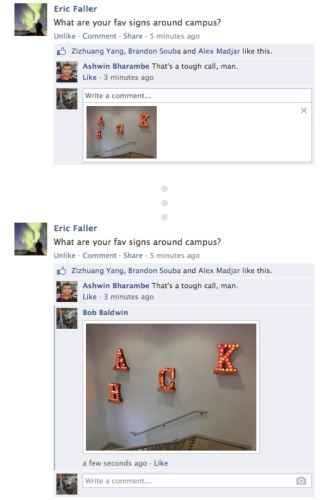 Facebook's new photo comment feature certainly makes interacting on the network more fun, as compared to previous a text-only comment system.
What do you guys think about Facebook's photo comments feature? Let us know in the comments section below: