Facebook has revealed it now has more than 1 billion, 1.19 billion to be precise, monthly active users, an 18 percent increase year-on-year. Facebook has now 728 million Daily active users on average as on September 2013, while number of monthly active mobile users has reached 874 million – a surge of 45 percent year-on-year. Mobile daily active users on Facebook are 507 million on average for September 2013. Facebook released these figures while announcing its its financial results for its third quarter.
Facebook's new figures highlights the significant growth from mobile devices including phones and tablets. It's notable about 73.44 percent of Facebook total user base now access the social network through a mobile device.
The social networking company of late has increased focus on its mobile apps on major platforms. Facebook Home, user interface layer for Android smartphones, was recently updated with integration with major apps such as Flickr, Tumblr, Instagram and so on. Moreover, its app for feature phones, called Every Phone, has gone past 100 million monthly active users.
With growing number of mobile users, Facebook is expected to have over 80 percent users accessing the network through a mobile device by 2014.
In terms of revenues for the third quarter of 2013, it totalled $2.02 billion, a growth of 60 percent compared with $1.26 billion in the third quarter of 2012. Revenues from advertising was $1.80 billion, a 66% increase from the same quarter last year.
It's worth noting revenues from mobile advertising represented about 49% of advertising revenue for the third quarter of 2013 - figures that's likely to encourage Mark Zuckerberg and his team to continue focus on mobile devices. Payments and other fees revenue was $218 million for the third quarter of 2013.
"For nearly ten years, Facebook has been on a mission to connect the world. The strong results we achieved this quarter show that we're prepared for the next phase of our company, as we work to bring the next five billion people online and into the knowledge economy," says said Mark Zuckerberg, Facebook founder and CEO.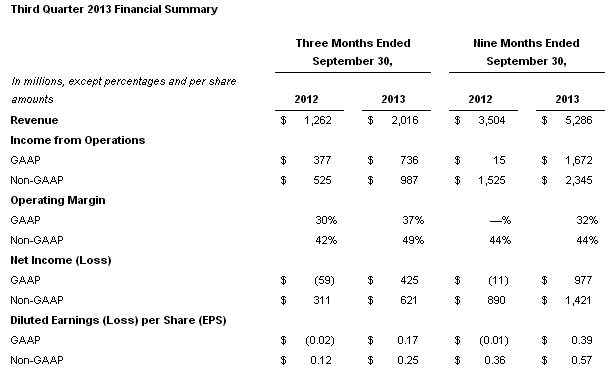 Source: Facebook