Facebook has announced a set of new tools that is supposed to help advertisers reach out to users across devices and even encourage them to take action. Called Custom Audiences, Facebook allow businesses to provide customised messages to users who have visited their sites or mobile app, and some News Feed ads to feature all-to-action buttons.
The Social Networking company had already introduced the new features last year, though it was then made available to limited number of test partners. Facebook had then promised to launch the feature globally "in the coming months".
Facebook explains its new features with some examples – a travel site with the remarketing pixel could use Custom Audiences to reach a group of people — say, people that searched for flights but never made a reservation — with a targeted message in News Feed: Come back for 10% off your next flight reservation.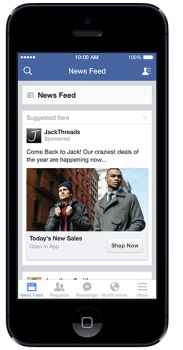 "Businesses will soon have a better way to drive people to their landing pages on both desktop and mobile. When a marketer creates a Page post ad driving traffic to their desktop or mobile website, they will have an option to add a call-to-action button, which will show up in the lower right-hand corner of the ad. Marketers will be able to choose from five action buttons: Shop Now, Learn More, Sign Up, Book Now or Download," says Facebook in a blog post.