Facebook's Events pages will now include weather forecasts as well. The update, once a project that was part of a hackathon, has been rolled out to both the mobile and desktop version of Facebook.
Users can check out the weather if the event is slated to take place within next 10 days. The forecast appears right below the "When" section when you create a Facebook event. The weather predictions also include the highest and lowest temperatures of the day.
The weather update to Events is likely to aid users while planning their events, especially for the outdoor events. The data for weather forecasts is provided by Weather Underground.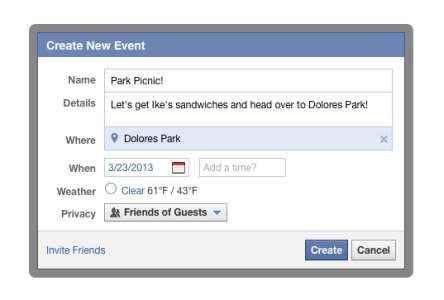 Facebook has recently rolled out a number of changes to its platform in the past month. It overhauled the News Feed with a focus on minimalism in design, and greater visibility for shared media – photos and videos. The company also updated its Timeline with a cleaner layout and more streamlined content.
According to reports, the social networking giant is also planning to include hashtags. The feature will work exactly like it does on Twitter. Users will click on #tags to see similar statuses and events.
Source: TechCrunch