The official India-centric pages of Cadbury's Bournville and French Connection UK (FCUK) have been taken down by Facebook. The social networking website discovered these companies were breaching the administrating hosting codes of such pages and other promotional guidelines. Cadbury and FCUK were apparently conducting contests and other promotional activities directly on their wall, which Facebook believes is an infringement of their promotional codes.
However, as we write this story, FCUK's India page is visibly online on Facebook, as seen in this recent screenshot.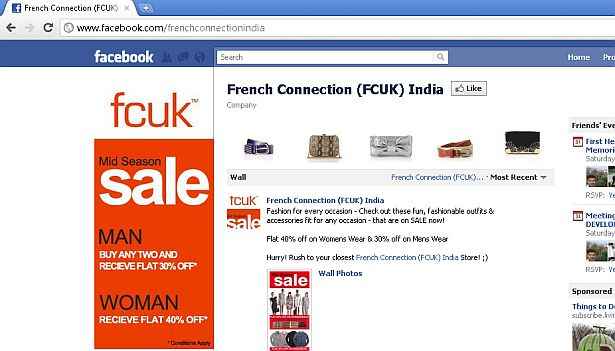 According to Facebook guidelines for promotional activities, brands are not allowed to conduct promotional activities off their wall. They are supposed to purchase an external app from Facebook to do so. The social networking has attached priority to these guidelines to make it clear that it does not 'endorse, or sponsor any brand'. [RELATED_ARTICLE]
An excerpt from Facebook's promotional guidelines:
"You must not condition registration or entry upon the user taking any action using any Facebook features or functionality other than liking a Page, checking in to a Place, or connecting to your app. For example, you must not condition registration or entry upon the user liking a Wall post, or commenting or uploading a photo on a Wall."

"You must not use Facebook features or functionality, such as the Like button, as a voting mechanism for a promotion. You must not notify winners through Facebook, such as through Facebook messages, chat, or posts on profiles or Pages."
The barring of Cadbury and FCUK pages comes almost a week after the social networking website took down the official India page of Pizza Hut on similar charges. Acknowledging the violation of promotional guidelines, a Pizza Hut official said that the company did not receive a notification about the change. He also said that the social networking site periodically updates its promotional guidelines and that the new policies was refreshed in the beginning of 2011. He did add, however, that Facebook referred to an older, inactive offer that was still on their wall.

screenshot of barred Cadbury India Page

screenshot of barred FCUK India page
Also read