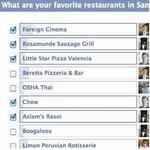 Facebook rolled out its updated Facebook Questions feature on Thursday, making brevity the soul of wisdom.
Instead of long, Quora-style responses, the new Questions simply emphasizes short, social answers. The site assumes people don't want a lengthy review, of say, their favorite pizza joint in Malibu - they simply want a name.
Facebook launched an early version of Questions last June, and the company said Thursday that the new feature is being slowly rolled out to everyone.
"We limited the beta release of Questions to a very small percentage of users in order to gather feedback," a Facebook spokeswoman said in an email. "We wanted to take our time to learn how people on Facebook would use it. In the process, we found that the greatest value was being able to ask your friends questions which is how we came to the product we've launched today."
Facebook also explained the new look in a blog post.
"We noticed that people were frequently asking for opinions ("what are your favorite restaurants in New York?") or hoping to learn about their friends ("what was your favorite movie as a kid, something you watched over and over?")," Adrian Graham, a product manager for Questions, said in a blog post. "For most of these questions, experts weren't going to be the best source for advice. The answers to these questions are meaningful or interesting because you know your friends and your friends know you.
"We wanted to make questions easier and faster to answer," Graham added. "With the updated Questions you can agree with an existing answer with a single click, or you can add a different response. This makes it easy for many more people to respond to you. It also helps us show you the most popular responses."
Questions can be asked of a broad group of people (including the world, apparently) but the answers will be filtered to include the user's friends, first. Other opinions can be viewed using the "others" option, Facebook said. Copyright © 2010 Ziff Davis Publishing Holdings Inc.