Facebook has launched a new service called 'Facebook Gifts', which allows users to purchase gift items for their friends via social network's desktop or mobile versions and have it delivered to their door. Facebook is rolling out Gifts service gradually, first in the U.S.
Facebook users can send gifts from the birthday reminders link that appear on the right hand panel of the news feed or from a friend's Timeline by clicking the "Give him/her a gift" link or the icon for a present. There's an option to post gift notifications on Friend's Timeline or send privately.
"Your friend can then unwrap a preview of the gift and it will show up on their doorstep a few days later," Facebook said in a blog post.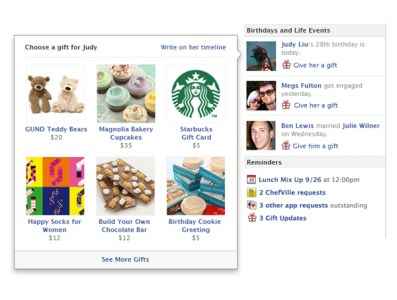 The company further explains that users can pay for the gift immediately or add the details later. The person receiving the gift has an option to provide shipping address of choice, and also the desired colour, size or flavour. The recipient will receive the notification about the gifts, like any other Facebook notification. According to the social networking company, Gifts include a hundreds of options, ranging from cupcakes to digital gift cards.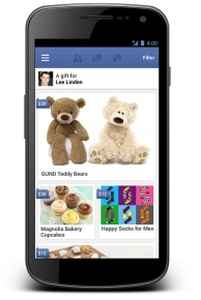 It's not the first time Facebook has ventured into Gifts business. A couple of years ago, the company launched a virtual gifts programme. Conceptualized at a 2007 hackathon event, Facebook's virtual continued only till August, 2010, when the company decided to stop the service in order to focus on "improving other products".
Facebook's new service is however different from the earlier one, as it allows users to easily ship physical presents to friends, and without worrying about the comfort of their newsfeed.
To find out more about Facebook's Gifts service, visit Facebook.com/Gifts.
Also read,