Facebook has started rolling out its revamped Like and Share buttons to all of its users along with embedded posts with customizable pixel widths.
Facebook on its Developer Blog cites figures released by Shareaholic that shows average referral traffic to media sites had gone up by over 170 percent year over year, while referral traffic from the social network rose 47 percent in November alone with Facebook contributing to over one-sixth of average sites' referral traffic.
"In early tests over the past month after launching the new Like and Share buttons, we've seen more than a 5% lift in Likes and Share across the web. This is significant, given that both buttons are viewed over 22 billion times daily. Based on these results, we've rolled out the new design to everyone and extended it to the Follow and Like Box plugins as well," says Facebook in the post.

Facebook says embedded posts will automatically scale itself according to the width of the device on mobile web.
The social networking giant last month announced redesigning its iconic Share and Like buttons. It was first change to "Like" button since its launch in 2010. The new design does away with the "thumbs up" and includes F with the word "like" - f like. Facebook is also working to pair like and share buttons in a single embed.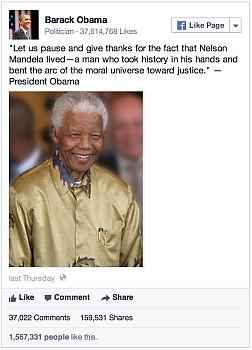 Source: Facebook