For the first time Facebook is allowing users to choose a gender other than male and female. Now the gender feature feature now has a new 'custom' category that allows users to select up to 10 gender identifications, including "transgender," "intersex" and "fluid."
The social networking site said it worked with a leading group of gay and transgender advocacy organizations to come up with the selection of identity options. Facebook said users can also control the audience who can view a custom choice with an inbuilt privacy setting, noting the challenges that some people may face in publicly sharing their gender identity.
Now Users can also choose the personal pronoun by which they want to be referred publicly. The social networking site may now invite a user's friend to write a birthday message on "their" wall, instead of "his" or "her" wall.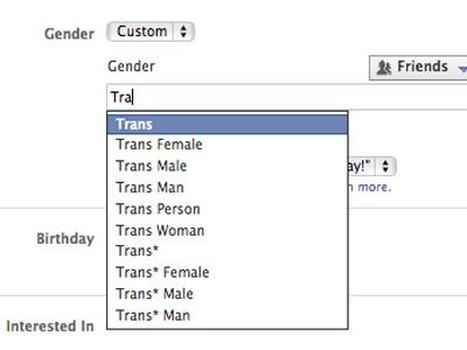 Earlier Facebook's 1.23 billion members could only select male or female for their genders. The basic user profile has been launched for members in the United States using the site's English-language version, however the social networking site stated that they will be rolling out the feature in other countries and languages soon.
"We want you to feel comfortable being your true, authentic self," Facebook said.
Google Inc's Google social network already had an "other" option for gender. The internet giant recently posted a doodle in gay pride colors to protest the Sochi 2014 Winter Olympics (the 22nd Winter Olympics) in Russia. The doodle showcasing six Winter Olympics disciplines presented in the colors of rainbow flag that represents gay pride.
Source: Reuters