Facebook has announced an integration with cloud storage company, Dropbox. The integration will help users of the social networking website to share files, pictures and folders to their friends and contacts in Facebook Groups using Dropbox's cloud-based storage system.
"Now you can share notes with your study group, add the latest game schedule to your basketball team's group, or post a birthday video to your family's group at lightning speed from wherever you are," Dropbox said in a blog post.
After linking your Facebook and Dropbox accounts, you will be able to browse and choose files from your Dropbox, as you do while selecting from own PC and then share to the group on the network. Once shared, they will immediately appear on your group's wall. The content shared from Dropbox will also appear on smartphone or tablet. Any update or change you make will also be shared to the group.
The integration, like any other Facebook posts, allows users to comment and like shared via Dropbox files. These shared docs, if allowed, can be downloaded as well.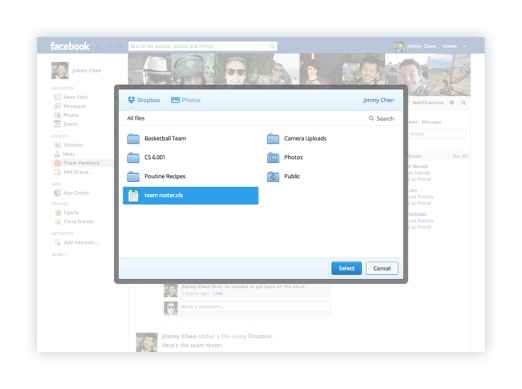 Dropbox makes it clear that the integration will not allow Facebook to have access of your Dropbox account, if your share documents. "Dropbox and Facebook exchange only the information that's needed for you to add a file to your group. Facebook does not have access to the contents of your Dropbox. When you add a file to a group, Facebook receives only the link to the file, some basic info about the file (such as name and size), and the ability to display a small preview. The file is hosted by Dropbox, and Facebook does not receive any other information about your Dropbox account," the company explains.
The feature is currently being rolling out and is likely to be available for all Facebook Groups soon.
Also read,