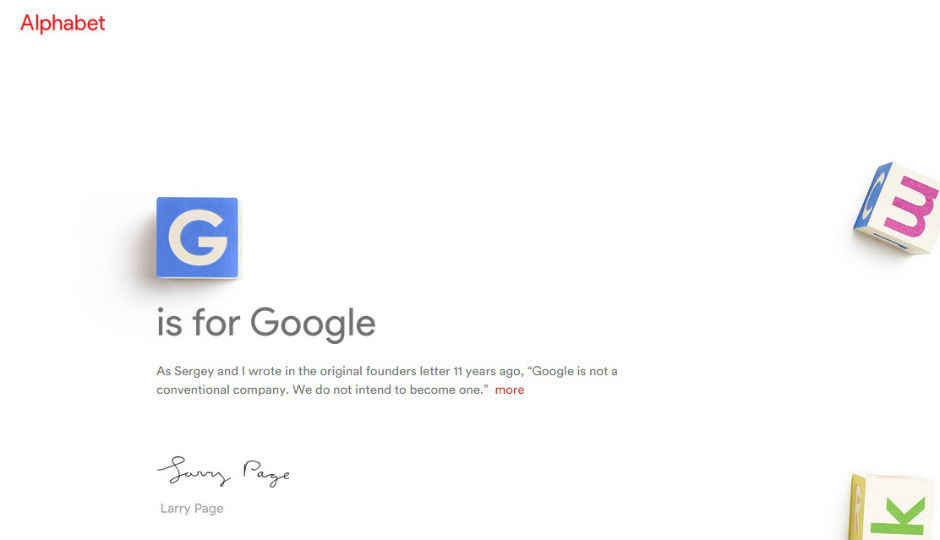 Google is officially a verb now, while Alphabet takes over as the noun. Yes, we stole that from Twitter. Google CEO Larry Page, announced yesterday, through a post on the company's blog, that Google is soon going to go through a complete corporate restructure. A new company, called Alphabet, will own Google and its other subsidiaries. What does this mean for Google? Well, to be honest, only time will tell. For now, here's what we know.
guys guys "google" is still the verb, "alphabet" is now the noun you curse for co-opting your entire livelihood — Casey Johnston (@caseyjohnston) August 10, 2015
Sunder Pichai is CEO
Of Google, not Alphabet. Alphabet will be headed by Larry Page as CEO and Sergey Brin as President, while Sunder Pichai takes over as the one true god of Google, or in corporate terms, the CEO. Pichai has over the past couple of years risen through the ranks at Google, taking over both Android and Search. With this move, his task basically remains the same, but with a different title.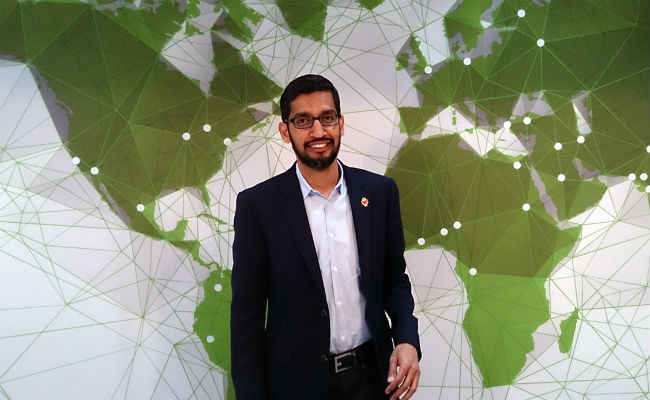 Pichai will be heading Google as CEO, meaning he'll oversee Search, Android, YouTube, ads and other Google products. "Sundar has been saying the things I would have said (and sometimes better!) for quite some time now, and I've been tremendously enjoying our work together. He has really stepped up since October of last year, when he took on product and engineering responsibility for our Internet businesses. Sergey and I have been super excited about his progress and dedication to the company. And it is clear to us and our board that it is time for Sundar to be CEO of Google," wrote Page, in his blog post on the Google Blog.
But what about the companies Google bought over the years?
They'll all remain under Alphabet and will operate separately from Google. This means that companies like Nest, Google Ventures, Calico and others, will be owned by Alphabet and will operate as autonomous companies. Here's what Page had to say.
"Fundamentally, we believe this allows us more management scale, as we can run things independently that aren't very related. Alphabet is about businesses prospering through strong leaders and independence. In general, our model is to have a strong CEO who runs each business, with Sergey and me in service to them as needed. We will rigorously handle capital allocation and work to make sure each business is executing well. We'll also make sure we have a great CEO for each business, and we'll determine their compensation. In addition, with this new structure we plan to implement segment reporting for our Q4 results, where Google financials will be provided separately than those for the rest of Alphabet businesses as a whole."
Wait, then what in the world is Alphabet?
I can't want for other tech companies to create tech companies that own their tech companies. #itwillhappen — Jessica Lessin (@Jessicalessin) August 10, 2015
Have you watched those corporate movies, where one man sits atop an empire, owning virtually everything? Well, Alphabet is kind of like that. It is a collection of companies that have so far been owned by Google. So basically, as the Twitter joke went, Google is officially a verb, while Alphabet is the noun.
Do no evil?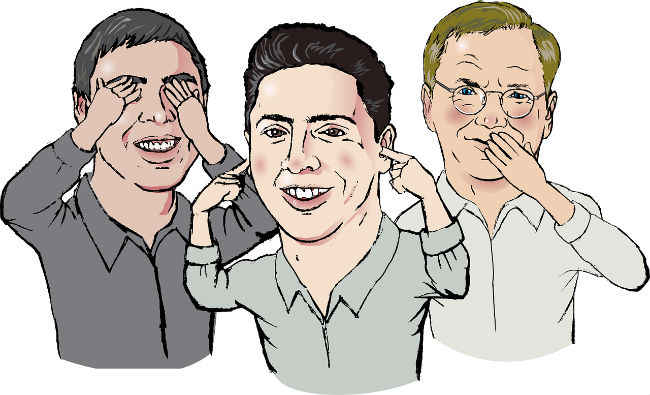 Eric Schmidt: "Remember your 'don't be evil' promise, guys" Larry & Sergey: "Huh? That was the old company. Bring in the robot soldiers!" — dan barker (@danbarker) August 10, 2015
The man sitting atop the empire is usually evil in those movies, but Google's motto always has been 'Do no evil'. While we can argue whether it actually has adhered to that or not, Alphabet for now seems to be a company that'll run everything, but not have any projects of its own. So basically, Mr. Pichai and other CEOs of various Google-owned (now Alphabet-owned) companies are going to report to Alphabet. So, as long as they don't do any evil, neither will Alphabet.
Just get to the point and tell me this — Will I search using Alphabet Search now?
No my friend. You'll still open www.google.com or www.google.co.in for your search requirements. Alphabet's website is www.abc.xyz, and that is where you go for information on the new company. Currently, there's nothing much for you to learn there.
Quartz has neatly listed all of the companies that may eventually be under Alphabet, in alphabetical order.
A – Android / AdSense / Analytics / Ara / AdMob / Alerts
B – Blogger / Boston Dynamics / Books
C – Calico / Cardboard / Capital / Contact lenses
D – Drive / DeepMind / Design / DoubleClick
E – Earth / Express
F – Fiber / Fi / Flights / FeedBurner / Firebase / Finance
G – Google (duh) / Gmail / Glass / Groups
H – Hangouts
I – Images / Ingress / Inbox / Invite Media
J – Jump
K – Keep
L – Local / Loon
M – Maps / My Business / Makani
N – Nexus / News / Now / Nest
O – Offers
P – Plus / Play / Photos / Picasa / Pixate / Patents
Q – [Nexus] Q
R – Refine / reCaptcha
S – Search / Self-driving car / Shopping / SageTV / Stackdriver / Skybox / Skia / Scholar
T – Translate / Tango
U – URL shortener
V – Voice / Ventures / VirusTotal / Video
W – Wear / Wallet / Web Toolkit / Wing
X – Google X labs
Y – YouTube
Z – Project Zero / Zagat
You can read Google's blog post here.
Other Popular Deals
Samsung Galaxy J8 (2018) 64 GB...

Rs. 14391 *

Buy Now

Redmi 5 (Black, 3GB RAM, 32GB...

Rs. 9799

Buy Now

Nokia 7 Plus (Black, 4GB RAM,...

Rs. 25900

Buy Now
*Includes Cashback
​