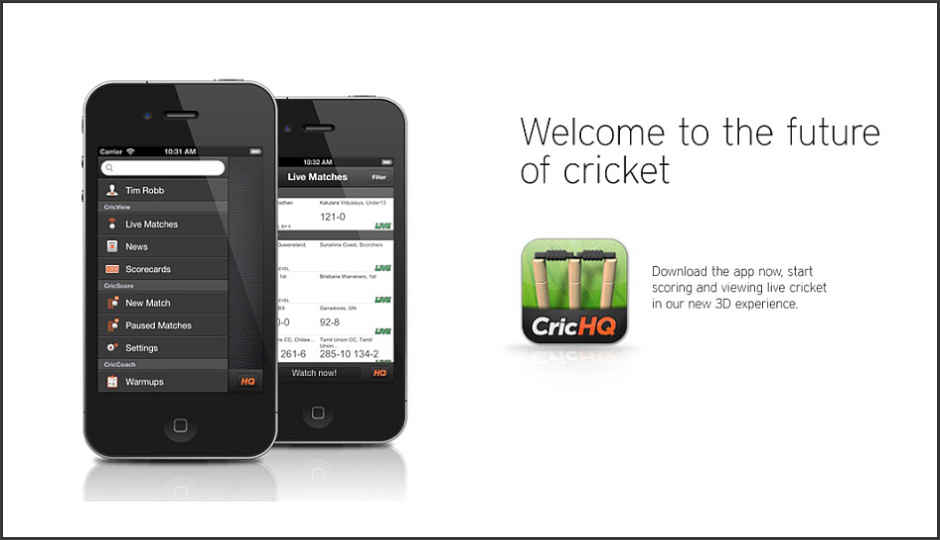 CricHQ, a cricket-based social network, has officially announced its entry into India. Backed by cricketers such as Stephen Fleming and Brendon McCullum, the network is available via mobile app (available on Android and iOS) and web version. The network will also be available on Microsoft Windows Phone and Nokia X.
Unlike other cricket-based websites, CricHQ focusses more on social elements. It allows users to keep a tab on latest cricket scores from all levels of cricket, all over the world, follow their favorite players and receive notifications and updates on what their favorite teams or players are doing.
You can also keep track games played at international, domestic, club and school levels. There's a Facebook-like newsfeed which shows activities of players whom one follows. Users can create their profile, post videos and pictures as well. It also has advanced match analysis tools such as wagon wheels and more.
In an exclusive interaction with Digit, Mr. Simon Baker, CEO of CricHQ said: "CricHQ is very different from other cricket-based websites. It allows one to keep track of even smallest-level of games and players. The network provides comprehensive data, which includes information about non-international cricketing career as well. CricHQ will help identify talents at a very early stage, which wasn't possible before this. With more cricketing boards joining the platform, CricHQ could be of great help to the game and talents across the country."
"We plan to reach out to smaller cities in India. We see a lot of potential in these cities. We will be doing that gradually though, as we are currently focussing on bigger cities. Moreover, we plan to expand further in India as well as in other countries. We hope to get more cricketing administrations on board."
Asked about monetizing the service, Mr. Baker said: "CricHQ will be showing advertisements on the website. However, these ads will not spoil the user experience. We have kept the interface very simple and easy to use for everyone."
On possibilities of further tie ups, he responded, "Recently we tied up with UC Browser. We have now tied up with Nokia and Microsoft. We plan to increase the number of partners in the near future."
CricHQ is available via Google Play store, Apple app store and online.