In a major blow to BSNL's 3G customers, the state-run telecom operator has announced a hike in its 3GWhere to buy

3060 data tariff. According to Telecomtalk.info, the new tariff will come into effect from September 16th. The hike will hit both prepaid and postpaid customers. BSNL has also launched new plans and pulled back some of the previous ones. [RELATED_ARTICLE]
As per the revised tariff plans, the base rate of BSNL 3GWhere to buy

3060 data will be 4p/10kb instead of previous 2p/10kb. BSNL has also withdrawn some of the freebies with its new 3G data card connection. Moreover, the postpaid plans of Rs. 89, Rs. 189, Rs. 1,819, Rs. 2,720 and prepaid Data RCV Rs. 2,000 have also been withdrawn.
The Telecom Talk report says the tariff plans have been revised in view of the 43rd amendment of telecom tariff order issued by TRAI.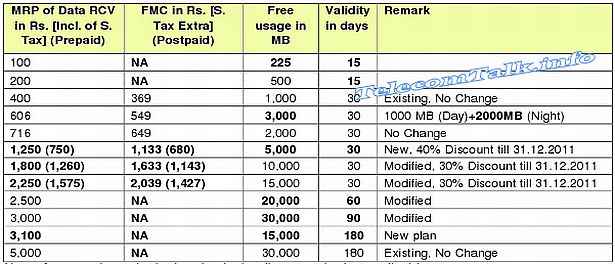 Check out BSNL's 3GWhere to buy

3060 plans here.
BSNL has always been touted as the cheapest telecom operator in India and that the hike will certainly hit a large number of users across the country. It may be recalled that Airtel had also announced a hike in its postpaid and prepaid plans a while ago. It is believed that telecom operators are bearing brunt of the hefty debts they took for acquiring the 3GWhere to buy

3060 license. BSNL's move will certainly prompt private 3G players to increase their tariff plans.
Also read,