Akamai Technologies has released second quarter report on State of the Internet. According to the report, the global average connection speed increased 21% from the first to second quarter of the year. At 4.6 Mbps, the global average connection speed exceeded the 4 Mbps "broadband" threshold for the first time.
According to the report, India's broadband adoption rate has grown over 5x since the second quarter of 2012 (two years), and over 10x since the second quarter of 2011 (three years). This is expected to accelerate in future with the announcement by Department of Telecom in June to finalize a National Broadband Policy within 100 days. India is in the 5th position for attack traffic originating by IP source. India's current connection speed is at 2.0 Mbps.
Interestingly, the largest year-over-year changes in broadband adoption rates across the surveyed Asia Pacific countries/regions were seen in the four countries with the lowest levels of adoption. Vietnam led the group, growing 722% year-over-year, followed by Indonesia and the Philippines, which added more than 200% over the past year, and India, which saw a 179% increase.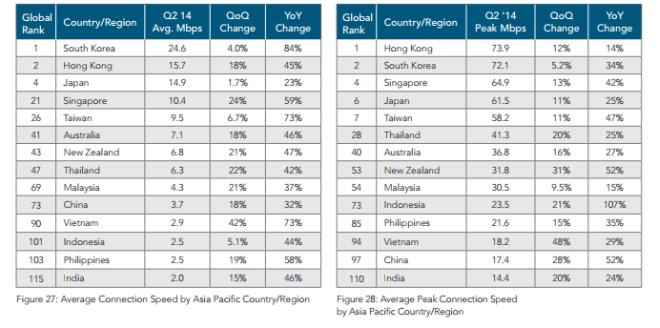 Eight of the top 10 countries/regions saw double-digit percentage increases from the first to the second quarter of 2014, though South Korea kept its first place average connection speed (24.6 Mbps) with only a 4% quarterly increase. Impressive 18% quarterly growth for Hong Kong (15.7 Mbps) pushed it ahead of Japan, which now matches Switzerland with an average connection speed of 14.9 Mbps. Four of the top 10 countries experienced year-over-year increases of more than 50% in average connection speeds, led by South Korea's 84% annual rise. Yearly increases were seen in 136 qualifying countries/regions, from 197% in Uruguay (5.6 Mbps) to 1.2% in the United Arab Emirates (4.6 Mbps).
The global average peak connection speed also saw a significant uptick, with a 20% increase to 25.4 Mbps from the first quarter to the second quarter of 2014. All but one of the 139 qualifying countries/regions experienced average peak connection speed increases this quarter, ranging from 2.3% in Iraq (30.4 Mbps) to 65% in Jersey (43.2 Mbps). This is a significant improvement from the first quarter of 2014, when 92 qualifying countries/regions saw quarterly declines in their average peak connection speeds. Year over year, the global average peak connection speed was up by 34%. A total of 125 countries/regions experienced increases over the year, from 0.1% in Lebanon (4.2 Mbps) to 225% in Uruguay (49.7 Mbps).
In the Second Quarter, 2014 State of the Internet Report, 56 countries/regions qualified for inclusion in the mobile section. South Korea's average mobile connection speed grew slightly from 14.7 Mbps to 15.2 Mbps to maintain its top position, while Vietnam hit a global low of 0.9 Mbps. Average peak mobile connection speeds among qualifying countries/regions ranged from 108 Mbps in Australia down to 4.7 Mbps in Vietnam.
The report also examines the percentage of connections to Akamai from mobile network providers at "broadband" speeds (more than 4 Mbps). In the second quarter, Denmark reported the highest level of mobile broadband adoption at 92%, whereas Brazil, Croatia, Paraguay, Vietnam and Bolivia all had mobile broadband adoption rates below 1%.
You can download the full Akamai report here.
Other Popular Deals
Samsung Galaxy J7 Nxt 32 GB...

Rs. 10990 *

Buy Now

Samsung Galaxy J8 (2018) 64 GB...

Rs. 14391 *

Buy Now

Redmi 5 (Black, 3GB RAM, 32GB...

Rs. 9990

Buy Now
*Includes Cashback
​