The development team at Microsoft's new search engine, Bing, is constantly looking for innovation, especially on the social networking side. In July, they rolled out a feature that threw up Twitter updates from the accounts of famous celebrities if the tweet was relevant to your search result. https://www.thinkdigit.com/Internet/Bing-now-throws-up-Twitter-updates-too_3132.html
Now, the company has come out with a new feature called 'Bing & Ping' that lets you share your search results with friends via Facebook, Twitter, email or copy-pasting the same. Bing and Ping is a small toolbar-like popup that provides two-click access to all these services right from your search result page.
Bing's Nicholas Kerr explains in a post on the official blog:
"We at the Bing team are firm believers in the idea that the only thing better than searching with Bing is sharing what you've found with your friends. That's why we've been working on a potential new feature for Bing that does just that in a couple of clicks, which we call Bing & Ping.
"Let's break this down with an example: say you use Bing's Instant Answers feature to check the score of a game, and you notice that your buddy's favorite team has just been beaten pretty handily. Say you want to 'delicately' remind him of their less-than-stellar moves with the ball. Bing & Ping lets you share this instant answer through various places, like Facebook, Twitter, or even email in as few as two clicks.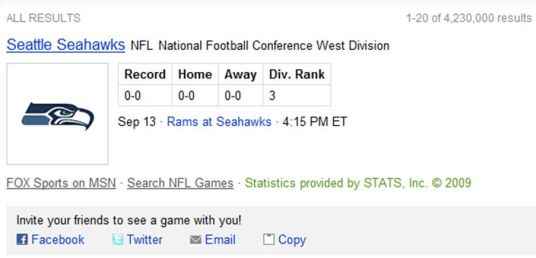 "It's not just limited to sports, either. Share a neighborhood plumber recommendation with a friend though email, tweet local movie times, or post a flight status with your Facebook pals while you're trying to bum a ride from the airport."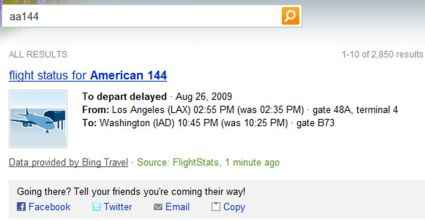 However, Microsoft has surprisingly omitted its own Live services in adding this new feature, thus irking a loyal fanbase. Here are some of the comments on the blog post:
Ali writes: "What about sending an IM? Or using Windows Live 'Shared Favourites', or updating my Windows Live Messenger status? I think it's great that you're embracing all the other Web services out there, but how can MS expect other Web sites/businesses to embrace their online services when MS's own properties often don't... Be great to see a little more integration."
Of course, if MS was to bring out Windows Live service support, the European watchdogs and their anti-trust suitcases might have thrown a party tonight. It's a no-win situation for Redmond, isn't it?
Anyway, if you are interested in previewing the new Bing & Ping service, join
Bing's Facebook page
as the development team is sending out invitations there.