Notorious hacking group, Anonymous India, is extensively using social media sites to promote its 'Occupy' protests, which it plans to stage in various Indian cities on June 9. The self-proclaimed hactivists recently launched a spate of cyber-attacks on various Indian websites to oppose the court ban on file sharing sites and other websites. Anonymous India is also protesting against the Indian government for allegedly censoring the Internet.
"The government today censors almost all medias, the press is heavily controlled and hence is unable to speak the truth frankly without taking sides. During this time it is the Social Media that exist on the Internet that helps people share and know the truth. This is the reason why the government is desperately trying to control the internet. Once the INTERNET is censored we will loose the last and final tool we have left to exercise our freedom of speech and opinions," said the group in a press release.
Anonymous India is planning to hold protests in Hyderabad and several other cities such as Mumbai, Delhi, Chandigarh, Indore, Kolkata, Bangalore, Kochi and Calicut on June 9. The hacking group is extensively using social media sites for promoting its campaign. It has created events pages, sending invitations to join the campaign. On Facebook, the group is posting videos, status and sharing links of the websites covering their campaign.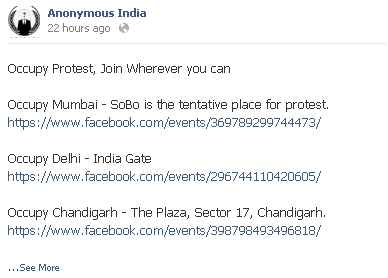 Anonymous promoting its Occupy protests on Facebook
The group has also created a website – www.opindia.posterous.com, featuring details of its campaign. "The Department of Telecom has ordered all internet service providers to block all file sharing websites, it's time for you to stand up and show that the corrupt government cannot stop you!" says the group on the website.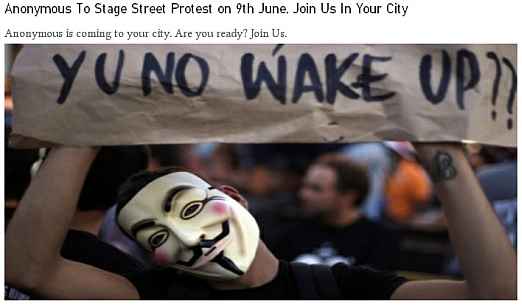 The hactivists group, however, makes it clear it does not intend to destroy any website but does not rule out possibilities. Anonymous says it wants people to spread awareness, participate in the June 9 protests and pressurise political leadership of the country to roll back the decision to ban the file sharing websites.
On Twitter, the group is asking people to promote the '#opIndia' hashtag in a bid to express support to their campaign.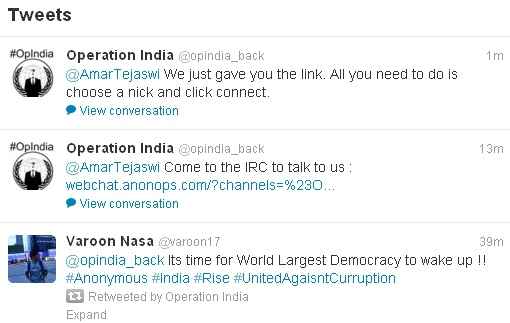 Anonymous on Twitter invites for chat
The group has also shared a YouTube video on Facebook, check it out:
Also read,