Are we dreaming? Affordable high-speed broadband connections in India?! It seems too good to be true and we're still waiting for the other shoe to drop, but for now, Airtel has come out with new tariff plans that are bound to please a whole lot of customers.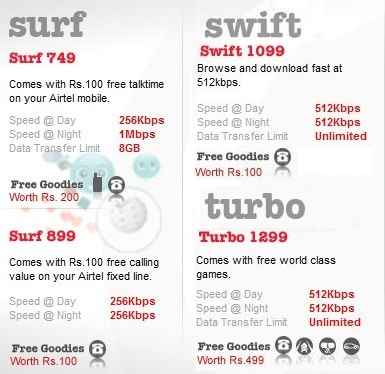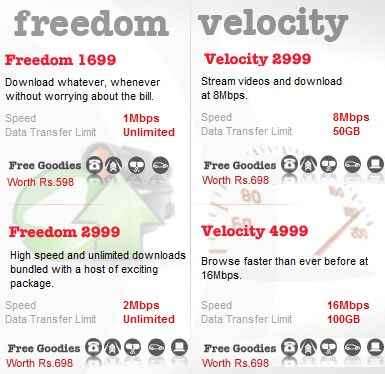 As you can see, the unlimited data transfer packages have gotten a major boost, with a 1Mbps line now costing Rs 1,699 per month, while a 512Kbps line will set you back by Rs 1,099. What this comes down to is a hike of just Rs 100 for twice the speeds, compared to existing plans.
While the tariffs for other schemes have also dropped substantially, it's the boost in data transfer limit for the higher-speed plans that will be welcomed by many. The 8GB plan now allows for up to 50GB of data transfer per month, while the 16GB line will let you play around with 100GB.
Airtel is sweetening the deal by throwing in some Value Added Services (VAS) free of charge. Subscribers will also have access to free VAS bundle of Rs 500 per month wherein services such as Games on Demand, anti-virus software PC Secure, Airtel Speed-on-Demand and Online Desktop will be offered.
Of course, the new plans do fall under the Fair Usage Policy (FUP), but with the company not announcing any new regulations, the last FUP should remain valid. In this, a 1Mbps line had a transfer limit of 100GB per month, after which it would be restricted to 512Kbps of transfer speeds. Similarly, a 512Kbps line would be restricted to 256Kbps upon hitting the same limit.
Now, we have long criticised the broadband scene in India. And don't get us wrong, the idea of imposing an FUP is still unfair and we don't agree with it at all. But really, unlimited data transfer at 512kbps for Rs 1,699, with a boost of 1Mbps for the first 100GB? That's a brilliant plan by current standards!