After the launch of the Smart NaMo Android mobile phones, now a runner game for Narender Modi fans has been launched. The game, called Modi Run, is available for free on the Google Play Store for Android users.
The game is a runner game like Super Mario and you see Narendra Modi running, jumping and trying to reach for the ballot box for votes. The game is set against the famous Arabian Sea in the background for the Mumbai part and the user needs to run across 12 different states to become the PM. Narender Modi has to run through Gujarat, Maharashtra, Uttaranchal, Rajasthan, Kerala. Karnataka, Andhra Pradesh, Bihar, Utter Pradesh, Tamilnadu, Assam and Madhya Pradesh.
Its description on the Play Store reads, "Help Modi through all the states and gather the votes to win the election and become PM of India. Modi Run is an action game where politician Modi runs through all the states and wins over the election to become Prime Minister of India.
The game comes with a disclaimer by the makers that reads, "This game is not endorsed by Modi or BJP. This game is purely for entertainment made as parody of Indian elections."
Earlier Modi fans have launched two new smartphones called the Smart NaMo Saffron One and Two. Both the devices run on Android 4.2.1 and are powered by a quad core 1.5 GHz processor. They have 13 MP auto focus rear camera with LED Flash and a 5 MP front-facing camera for video calling. The handset supports Dual SIM (3G 3G) with Dual Standby, 3G, Wi-Fi 802.11 b/g/n, Bluetooth 4.0 and aGPS connectivity.
The Smart Namo Saffron One has a 5 inch display screen while the Saffron Two has a 6.5-inch Full HD display. The devices are available for Rs 18,000 and Rs 24,000 respectively on snapdeal.com.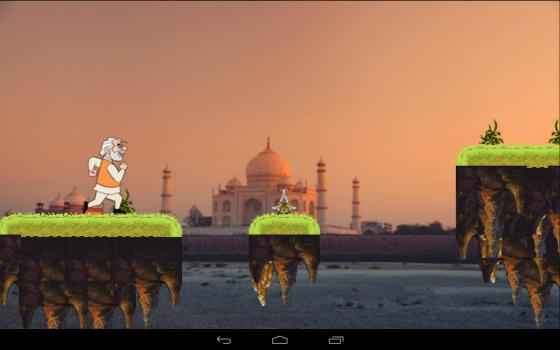 Source: DNA