A few online image editors are powerful enough for elaborate use, and we used four of the best till they crumbled because of our efforts. They are definitely not a replacement for Photoshop yet, but Adobe could learn a few tricks from the interface and usability of some of these image editors. We used Aviary Phoenix (called Phoenix from here on), Pixlr, Splashup and Sumopaint. Splashup is the most well known of the four, and the de facto for online image editing. Popularity does not necessarily mean that it is the best. We will tell you up front that for serious use, Pixlr stands out, with Sumopaint close on it's heels, but read on to find out why and get the details.



Loading applications

Phoenix prompts you to log in, and has an ugly bar along the top that distracts you till you log in. We signed up though, to thoroughly use the service. Phoenix is the slowest to start up. Splashup and Sumopaint also encourage you to login, but in a more discreet manner. You are allowed to jump right in, and start editing in both the applications. Phoenix, Splashup and Sumopaint all open in new tabs or windows, filling up the browser or the taskbar in the process. Pixlr was by far the fastest to load, and opens in the same window as the main site, which shows some consideration to the people using it. However, the disadvantage of this approach is that while Sumopaint, Splashup and Phoenix get rid of the address bar when launched in a new window, Pixlr does not. We suggest that when you edit your images on any one of these sites, always work in the full screen mode. Use shortcuts to navigate to other tabs if it is necessary.



Opening Images
The APIs of many online photo hosting services are open, which allows other web 2.0 applications to interface with these services. Splashup has a neat little open feature with tabs for Picasa, Flickr, Photobucket and Facebook, among other services. This means that as long as you are willing to log in to these services, you can open the images in your account. However, for most work, using files stored on the hard disk itself is necessary. Here is a table of supported formats for the image editing web sites.
| | | | | |
| --- | --- | --- | --- | --- |
| | Sumopaint | Phoenix | Pixlr | Splashup |
| jpg | Y | Y | Y | Y |
| png | Y | Y | Y | Y |
| gif | Y | Y | Y | Y |
| bmp | N | Y | Y | N |
| TIFF | N | N | N | N |
| psd | N | N | Y | N |
Sumopaint, Pixlr and Splashup all allow you to open multiple images at once, which is not something that Phoenix allows. This is a rather essential function for image editing, and the application is severely crippled because of a lack of this functionality. Sumopaint, Pixlr and Splashup all allow you to open hotlinked images, or images from a particular url. Phoenix lacks this ability as well, which is a bummer.
The Work environment
There are a few essential features of a workflow environment. The ability to zoom in and out of the document is essential for example, as well as moving about when zoomed in. Pixel level control is also important to a lot of people. The windows in the work area should be flexible according to the needs of the user, some may prefer to work on them all the time, others, sometimes, and still others may never want to use them at all.
Phoenix has a neat little slider for quickly zooming in and out of images, and a hand tool placed prominently for easy navigation. Phoenix by default just displays the Layers window. This is static, and cannot be resized or moved around. Phoenix does allow you to close the window, but there is no other window available, for brushes, or swatches or edit history.
Splashup allows you to move around and resize the windows, and displays Info, Colour and Layers by default. Splashup does not allow you to close or select which windows should be displayed, which is pretty irritating. The zooming options in Splashup is very limited, and there are only 5 zooming in options available. You can zoom in to 800%, but if you want to zoom out, you can only go upto 50% of the size.
Sumopaint has a static sidebar with a slider mechanism for displaying and hiding windows. The zoom level, Colour picker, Swatches and Layers are all shown by default. You can minimize these, but not close them. The sidebar scales wonderfully when switching between full screen mode and standard mode, which is an improvement over the wasted workspace below the windows in all the other online image editors.
Pixlr has by far the most flexible windows display, you can move them around to anywhere in the screen, resize them easily, and close them when they are not necessary. History, Layers and a Navigator are open by default. The Navigator is an easy to use window to zoom in to any level that is necessary, which scales automatically according to the size of the image. This is the most powerful zooming tool available when the online images are matched against each other.
Brushes
Splashup is very disappointing when it comes to brushes. There is just a list of default brushes that can be used, with no brush editor. There is just a slider to adjust the size of the brushes. The list of default brushes also lacks a gaussian brush. However, this can be achieved by tweaking the "feather" option for any of the brushes. There is also a random rotation checkbox available, but that's about it, not at all versatile.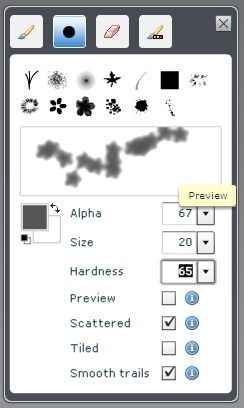 Phoenix has a little more advanced brush editors, that pops up as a window that can be closed. There are a number of basic parameters available, apart from hardness, flow and size, there is also an alpha option, which is a great parameter for a brush. There are a handful of default brushes available, that can be tweaked in a number of ways. Scattering options are available, as well as a useful little feature that lets you selectively replace a particular colour while using the brush.
Pixlr has a very advanced brush editor, with three global options, and 36 brush options, along with five parameter sliders, which gives you a lot of brushes to play around with. The slider tweaks for spikes, angles and spacing (not scatter) are very convenient. The size option is called "radie". Apart from these options there are also scatter, diffuse and noise checkboxes to be applied on any of the brushes, and an opacity slider. Despite all of this, Pixlr does not have the most versatile brush manager.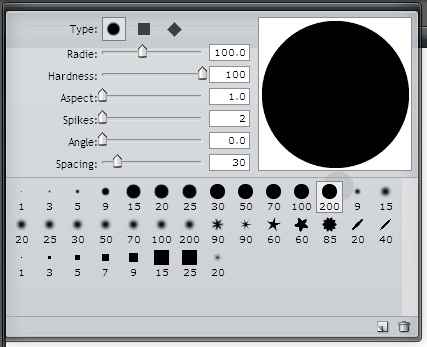 Sumopaint has a lot to offer when it comes to brushes. There are four "post effects", five "brush options", four sliders for tweaking, and a staggering number of presets. Click on the circular drop down icon in the brush editor to access the brush libraries. There are also animated brushes, which change as you paint, an innovative idea. Apart from all of these, the opacity and diameter can be globally tweaked. Apart from the opacity, there is also a blending option available, which lets you blend the paint with the contents of the existing layer while you are painting, instead of having to tweak it later on. This is both an advantage and a disadvantage, but the fact that the option is available at all gives a lot more room for users to work with. If you actually want to create something new, or paint online, then Sumopaint is a better option than Pixlr.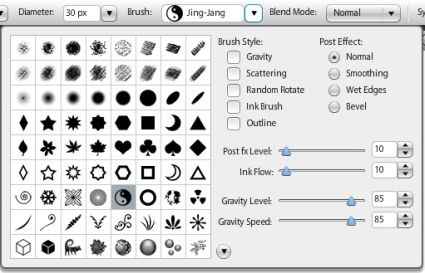 Layers
Phoenix has a strange mechanism for using layers, which partially compensates for the inability to open multiple files at once. You can load a new phoenix layer, and push it to another phoenix window, then bring it back in to the main window. Phoenix also uses something known as Raven and Peacock layers, which are vector imaging and effects environments by Aviary. However, getting anything done results in a lot of windows being open at once, which is resource hungry, and is liable to crash your browser. Phoenix has 13 layer blending options available, and the transparency can be set using a slider at the top of the layer window. Phoenix does not let you manipulate the contents of a single layer in any useful manner, in terms of flipping, rotating or cropping. You will have to push it to another Phoenix layer in a new window, and then import it back in.
Splashup has a great layer window, as the window itself lets you quickly add or delete a layer, re-order layers and merge them. Users can merge any given layer to the layer above as well as below the selected layer, which is a pretty convenient feature. You can flip a particular layer, but not rotate it. There are 12 layer blending options available, and transparencies can be set using a slider located at the top of the window. Splashup allows you to print selected layers only, which is a unique feature.
Sumopaint also has a mini-layer toolbar at the bottom of the layers window, which lets you instantly add, delete, merge and re-arrange layers. There is a settings icon that lets you add effects to the layer, and 10 layer blending options. The opacity of any layer can be set with a slider, and the contents of any layer can be rotated in increments of 90 degrees, or flipped when necessary. There is also a handy little fx menu, that lets you quickly add layer effects to a selected layer in two clicks.
Pixlr has sixteen layer blending options, which is the most you can play with among the online photo editors. The layer window however does not allow you to easily add new layers, but there is an elaborate layer context menu on right-clicking, which is something the layer windows in the other image editors lack. Pixlr also gives you the ability to lock layers, which is pretty convenient. Pixlr also has a slider for changing the opacity of a particular layer. You can rotate to any degree of control and flip the contents of a single layer. You can adjust this using the default shortcut for Photoshop [Ctrl] [T], which is an intuitive touch to Pixlr.
The image editors, unfortunately, don't allow users to next or categorize layers. Sumopaint allows you to copy the effects of one layer, and paste just the effects onto another layer, which is convenient when working with objects or shapes on multiple layers. Sumopaint and Phoenix allow you to drag the layers to re-arrange them, but Pixlr and Splashup don't allow you to do this. You have to select a layer, and use the arrow buttons to re-organise the layers.
Toolbox
Phoenix has the least number of tools, but the only one in the lot to have nested tools. The tools work smoothly, and Phoenix does not crash even under heavy workload. However, the work is not allowed to get anywhere in the first place because of the inability to open multiple files. Pasting is a hit-and miss affair, and is very buggy. Splashup has quite a few tools, but the lack of a magic wand selection tool is very disappointing, and acts as a dead end for a lot of your work. For serious editing purposes, only Sumopaint and Pixlr are of any use whatsoever.
Sumopaint has an interesting set of tools, and many with a unique approach. The symmetry tool lets you paint from a set number of points on the image, and replicates the motion of the brush all over the canvas. There are a bunch of shape tools (stars, bulky stars, pointed stars, and a chart tool) that are incredibly versatile. These allow you to create a wide range of shapes by changing the appearance of the shape when you move the mouse in a circular motion around the center of the shape that you are drawing. All the shapes you see below were created using just the rounded star tool in Sumopaint.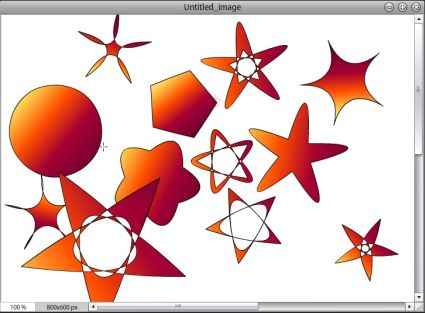 However, one major disappointment in Sumopaint is how buggy the selection tools are. Selections are a hit and miss affair, and are often confusing as the older selections hang around despite new selections being made. We were stuck at one point where no matter what we selected and copied, the same block was being pasted over and over again. Consecutive selections don't stop the older selections from being in effect, which is a very counter-intuitive and irritating feature.
Pixlr has a strange empty toolbar space, which looks like a bug. However, the interface functions smoothly, even under heavy load. There are sufficient tools available for playing around, and the best part is the ease at which users can resize and crop images. There is a simple slider for changing image sizes, which is something that Photoshop can learn from Pixlr. While the toolbox is not as versatile and for that matter, fun, as Sumopaint, Pixlr is much better designed and does not buckle under the load of multiple large images being loaded at once, and portions being cut and pasted from one image to another.
Saving Files
Once you are logged in, Phoenix has an option to backup the state of the progress as it is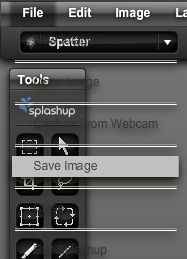 , every now and then. You will have to export the files to the disk though, and not too many formats are supported (see table). Splashup is most likely to hang just when you choose to save the file to the disk, and this is so incredibly predictable that it is surprising.
Splashup does let you save to other web 2.0 sites though, and this works pretty smoothly. You can save to Photobucket, Picasa, Flickr and Facebook, which makes this a convenient option for making macros. Sumopaint lets you save to the Sumopaint account, or your hard drive. Image editors know that when a lot of layers are being used, the image editing application is likely to develop bugs and crash. This is not any different for online editing applications, which also buckle under a lot of load. This happens to Pixlr as well, but the interface itself did not develop glitches, no matter how much we pushed it. The selection tools disappear, any action becomes painfully slow, but a unique saving option by Pixlr saves the day. Pixlr let's you save any image that you are working on in a Pixlr specific format, on your hard disk instead of a location on the internet. So not only can you work on the same image across sessions, you can also rescue your work in case the browser crashes. Pity it does not have an option that automatically saves the latest version on the hard disk. Refer to the file types table for the saving options.
| | | | | |
| --- | --- | --- | --- | --- |
| | Sumopaint | Phoenix | Pixlr | Splashup |
| jpg | Y | Y | Y | Y |
| png | Y | Y | Y | Y |
| gif | N | Y | N | Y |
| bmp | N | N | Y | N |
| psd | N | N | N | N |
| TIFF | N | Y | N | N |
| custom | N | Y | Y | N |
The Verdict
We used a lot of high-resolution stock images, a few google image searches, and pulled them all together in one file. Then we cut elements from across these images, and put them in one file. Pixlr stands out as the best by far, because of the ease of use, and how little it struggles despite heavy loads. This is surprising functionality for an online image editor. On a 1mbps line, it did not feel like working on an application not installed on the system at all. This is a striking contrast to the image load times in the other editors. This is what we managed to do on Pixlr: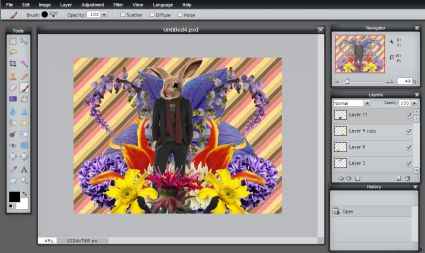 If you need to start from scratch, and paint all the way, use Sumopaint. If you want to composite images, and backup your work on your memory, use Pixlr. For basic effects and saving to social networking and image hosting sites, use Splashup. Aviary Phoenix is not that great, but Aviary Raven is great for vector image editing.