Quit multiple apps at once
The new Windows Phone alike multitasking tray of iOS 7 allows you to quit apps by swiping upwards, but this is not restricted to one app at a time. You can quit multiple apps at once by using multiple fingers. To do it, place your three fingers on the three visible app cards in the tray and swipe them upwards at once.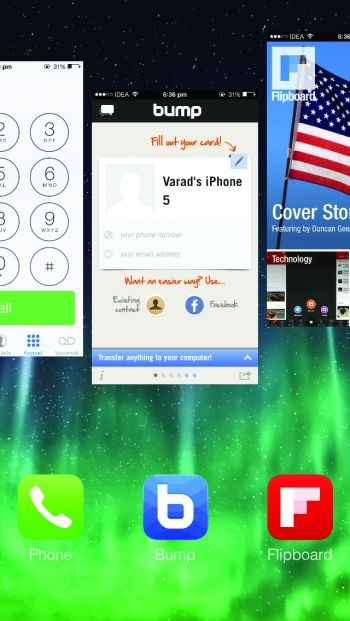 Close three apps at a time by swiping them upwards simultaneously
Enhance your battery backup
A new feature called 'Background App Refresh' will give a bump to your existing battery life. Any internet based application continuously refreshes in the background to fetch for updates. It makes use of Wi-Fi or cellular data and in-turn uses battery juices. Turn it off from Settings > General > Background App Refresh to save your battery.
Get the bubble level
The compass app isn't only a compass anymore, it includes a bubble level too. Get rid of uneven levels while hanging a portrait or assembling furniture by going to compass app and swiping right.
Add infinite apps to folders
Earlier versions of iOS allowed only twelve apps to be placed in each folder. iOS 7 removes this restriction and allows you to add infinite number of apps in each folder.
Navigate to previous menu with a swipe
Now use gestures to go back to previous menu instead of using the 'Back' button. Just swipe from left edge to right on your screen and you'll be on the previous page. All the primary apps like Messages, Photos, Notes, Settings etc and iOS 7 compatible third-party apps have support for this gesture.
Go back to previous menu by swiping from left to right
Watch out for the live clock
If you've closely seen the clock app icon on the Home Screen, you'll observe it is not static anymore. iOS 7 makes the clock app icon dynamic that displays the current time along with real time seconds hand.
Switch between digital and analogue clock with a tap
If you cannot understand time on an analogue clock or want to know the exact time of a place in World Clock, just tap the analogue clock that appears in front of the city name. It will turn into digital and vice versa.
Quickly open Music app from Control Centre
Control Centre provides all the music controls there itself. Still if you want to quickly get back to the music or podcasts app tap the title of currently playing music or podcast.